Your location: Home
Support for parents
Support for parents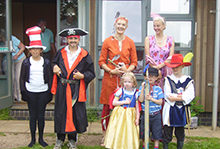 Coeliac disease is a life long condition. Throughout each stage of a person's life they will find there are new challenges they have to face in order to stay symptom free.
However, early diagnosis can help your child adapt to the gluten-free diet from a young age.
Looking after a child with coeliac disease can seem daunting at first. Coeliac UK can guide you through first challenges and give you ongoing support.
If you have a child who has coeliac disease, or who may be at risk of having coeliac disease, we have lots of advice about how to manage their diet, as well advice on eating during their school years, at parties and when growing up.
Find out about how to manage the different stages of your child's life:
Become a Member of Coeliac UK
Parents or carers of children (under 16) with coeliac disease are welcome to join Coeliac UK on the child's behalf. If there is more than one person with coeliac disease living at the same address, you may wish to sign up for Household Membership. More information on our Membership packages.
On joining Coeliac UK, you will receive a Welcome Pack, which is packed with advice on how to manage your child's diet and lifestyle.
Member2Member programme
Our Member2Member programme provides support to parents and carers of children who've recently been diagnosed with coeliac disease. It puts longer standing parent and carer Members in touch with parents and carers of newly diagnosed children who may be in need of support. Parents are matched with other parents who have children of a similar age. Find out more about Member2Member.
More Support for parents links
Print page
Add to My Scrapbook