Get involved
If you want to get involved with Coeliac UK, there are a range of ways you can support our community and do something brilliant, no matter how much time you have.
Small things together do big things, so check our web pages on different opportunities for you.
You could:
and much more!
We are here for anyone who lives gluten free and your help and experience could make all the difference.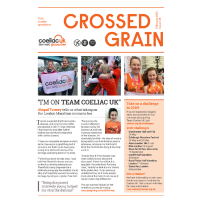 For the latest from Coeliac UK, why not check out our Crossed Grain newsletter? It's packed full of news, events and ways to get involved. Read it here.