Your location: Home
Food on prescription
Food on prescription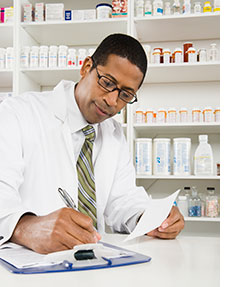 If you are diagnosed with coeliac disease by a doctor, you can receive gluten-free staple foods via prescription from your GP.
There are a number of manufacturers producing a wide range of gluten-free staples available on prescription, including:
breads
rolls
pastas
flour
bread mixes
pizza bases
crackers
crispbreads
breakfast cereals
oats.
You can contact manufacturers directly, who will be able to give you information on the range of products that they make and they are usually happy to send out samples.
A list of all the gluten-free staples available on prescription can be found in our Food and Drink Directory.
The Advisory Committee on Borderline Substances (ACBS) is an independent body who advise the Department of Health and approve products that can be prescribed to patients.
Most GPs will only prescribe products approved by the ACBS, but they are able to prescribe alternatives if they believe it is needed for your care.
In most parts of the country, as with prescriptions for medicine(s), your GP can write a prescription which can then be dispensed by a pharmacist. While you are getting used to your gluten-free diet, it is likely that you will want to change the products you receive on prescription. For preferred products you may find that you will reorder these items from a repeat prescription, without visiting your GP. However, if you want to change your prescription at any time you should make an appointment to see your GP.
If you are unsure about which products to order on prescription, your dietitian will be able to give you advice on what foods are available. If you are newly diagnosed with coeliac disease, check that you have been referred to a dietitian. Your GP or hospital doctor can arrange a referral.
Pharmacy-led prescribing schemes
Some areas run pharmacy-led prescribing schemes. These allow you to obtain gluten-free products directly from your local pharmacist instead of having to go through your GP. These schemes aim to free up GP time and provide easier access to gluten-free staples on prescription.
If you use one of these schemes, it is still important that you speak to your GP if your symptoms reappear or change, or if you have any concerns. They can then refer you to a dietitian if necessary.
Coeliac UK is working with pharmacy organisations to look at the benefits of these schemes and encourage other areas of the country to take them up.
Amount of prescription foods
Your GP is responsible for the clinical decision making about the amounts of gluten-free staples that are prescribed. However, there are national guidelines on the amounts you can receive on prescription each month. These are based on your age, gender and whether you are pregnant or breast-feeding.
The guidelines recommend a number of units each month which relate to a certain number of food items.
Recommended amounts per month:
| Age and sex | Number of units |
| --- | --- |
| child 1-3 years | 10 |
| child 4-6 years | 11 |
| child 7-10 years | 13 |
| child 11-14 years | 15 |
| child 15-18 years | 18 |
| male 19-59 years | 18 |
| male 60-74 years | 16 |
| male 75+ years | 14 |
| female 19-74 years | 14 |
| female 75+ years | 12 |
| breastfeeding | add 4 |
| 3rd trimester pregnancy | add 1 |
Number of units for different foods:
| Food item | Number of units |
| --- | --- |
| 400g bread/rolls/baguettes | 1 |
| 500g mix | 2 |
| 200g biscuits/crackers | 1 |
| 250g pasta | 1 |
| 500g oats | 1 1/2 |
| 300g breakfast cereals | 1 1/2 |
| 2 x 110-180g pizza bases | 1 |
The guidelines give flexibility about how you use your units. Some people may just receive bread on prescription whilst others get a variety of foods.
Paying for prescriptions
Prescriptions for gluten-free food are not free of charge unless you qualify for free prescriptions.
Usually you will need to pay one prescription charge for each item on your prescription. The prescription charge in England is £7.85, as of April 1, 2013.
Prescriptions are free in Scotland, Northern Ireland and Wales.
If you pay for prescriptions, it may save you money to purchase a pre-payment certificate (PPC) which allows you to pay a set fee for either three months or 12 months. A PPC costs £29.10 for three months or £104 for 12 months.
A PPC covers you for all of your NHS prescription costs, no matter how many you need. To find out more about PPCs, speak to your local pharmacist, call 0300 330 1341 or you can order one.
If you have difficulty obtaining items on prescription
Gluten-free prescribing will vary across the country and not all the products on the ACBS list will be available in all areas. Some areas have been reviewing their policies on gluten-free prescribing due to the tough economic situation. This may have resulted in changes to your usual prescription.
We feel strongly that the prescribing of gluten-free staples is an essential NHS service that should be available to all patients. However, we cannot make a special case to support the prescribing of biscuits and cake mixes, as they are not staple foods and their use is not consistent with healthy eating recommendations.
We feel that the numbers of units recommended in the national guidelines (above) should be treated as the norm and should only be exceeded in exceptional circumstances for clinical reasons. For example, if you are underweight or unable to meet your nutritional requirements.
If you take a copy of the prescribable list to your GP, you can discuss with them which items are available to you. If you are finding it difficult to follow the gluten-free diet, speak to your local dietitian.
If you are living in an area experiencing restrictions you may want to take a look at our section on this.
More Food on prescription links
Print page
Add to My Scrapbook