Reach our community
Getting your gluten free message out
At a glance...
learn about our gluten free community
find out how we can promote your gluten free products and put you in touch with your target audience
Get in touch with us to discuss the most appropriate opportunities for your brand
We have a highly engaged audience always wanting to know more about where they can find great gluten free products and ranges.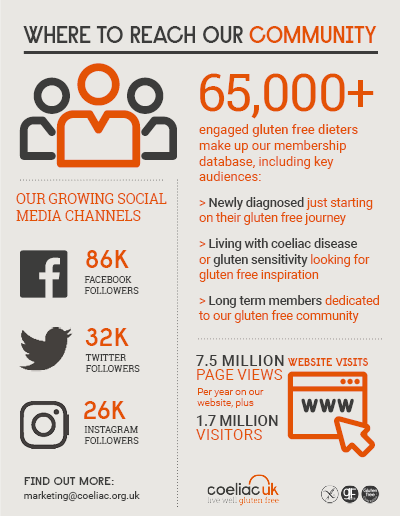 Our gluten free community are always on the look-out for new gluten free products to try especially new entrants to the market, and also like to be reminded of what's available, from where. Our audience trusts us and our information so by partnering up we can help you communicate these with them.
We can help you get your marketing message out and help you tap in to our engaged gluten free audiences. We have something for all budgets and can advise you on what we think will get you the best results to help achieve your marketing goals.
Here are the Top 10 Ways we can connect you