Reach our community
Getting your gluten free message out
learn about our GF community
find out how we promote your GF accreditation and put you in touch with your target audience
discover other ways to enhance your GF accreditation status
We have a highly engaged audience always wanting to know more about where they can eat out safely.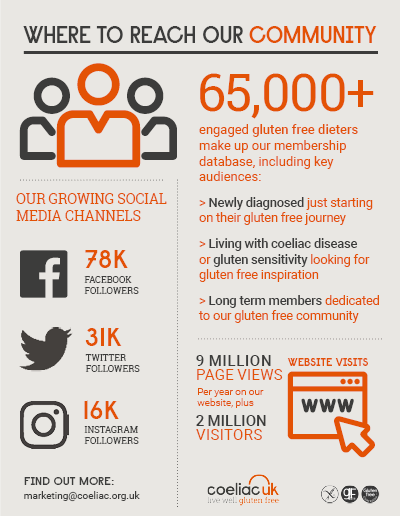 As you'd expect we work heavily with our GF accredited partners so as part of the package we'll help connect you with:
Our membership via our monthly Products and offers E-newsletter with launch and renewal announcements and a "What's new" feature to promote a new menu or other promotional activity post launch
Our website and app users through your Venue Guide website and app listing
Our supporters via our monthly newsletter
Our social media network via Twitter, Facebook and Instagram announcement posts.
We know from asking our members they love to hear about new places to eat out safely. Our audience also trusts us and our information. Through your GF accreditation we can help you communicate these with them.
"Gaining the GF accreditation has done wonders for our business. Customers are coming from far and wide and I'm receiving wonderful feedback for our great service and GF food as well as getting great response on social media too!" – Paignton Pier Chippy
We can also help you to promote your accreditation status and make your venue stand out with our Top 5 marketing opportunities: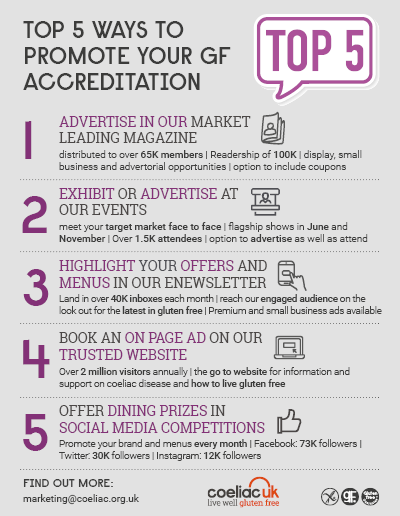 If you haven't gone down the GF accreditation route yet, (although you can check out why it's such a great idea here) but feel you offer safe gluten free options and want to promote your establishment with us please get in touch!
We have opportunities to promote your venue in our Live Well Gluten Free magazine or our Products and offers newsletter.
Get in touch for full details and prices