What gluten free consumers want
At a glance ...
Gluten Free venues: 96% of respondents to a recent Coeliac UK poll(1) saying that their or a member of their party's gluten free needs determines where they eat out to ensure a venue will meet their dietary needs
Venue choice: 87% of members said they would like all venues with gluten free options to be accredited by Coeliac UK and 82% say they are more likely to visit an accredited venue
Trusted venues: In addition, 97% of the poll(1) respondent said that when they've found a gluten free venue they trust, it becomes a preferred place to visit, indicating the loyalty and repeat business the accreditation can generate
Made welcome: 81% of our members said they would be prepared to travel for 30 minutes or longer to a venue they knew could cater for a gluten free diet, accreditation helps secure a loyal customer base
"I use the GF accreditation scheme to look at new places to eat. It gives me confidence that the restaurant takes cross contamination seriously. Those with coeliac disease and gluten intolerance also have friends and relatives and they eat where we feel happy eating!" - Alison, Coeliac UK member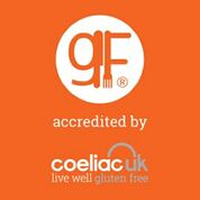 With a meal costing on average £10 - £20 per person and an average group of two or three people, you could be missing out on £60 for every gluten free person you don't cater for.
So why wait for gluten free customers when we can help bring them directly to you. Don't miss out on their business by excluding gluten free from your menu. Let us, through our GF Accreditation scheme, training for caterers and marketing help you tap into the lucrative gluten free market and build a loyal customer base.
(1) Social media polls via Coeliac UK's Facebook and Instagram stories 25/01/2023 (n=1736 votes)