Caterers and restaurateurs
We are celebrating 10 years of our GF Accreditation scheme with the mission to ensure that gluten free food being served at venues across the UK is safe and meets UK law.
With around 3,000 accredited venues in the UK within the hospitality, education and health sectors who are seeing the benefits of our GF Accreditation scheme. Accredited businesses have seen an uplift in their sales and have enjoyed some excellent consumer feedback with increased loyalty.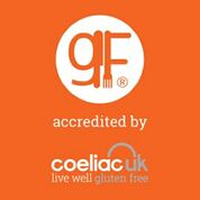 "Working with Coeliac UK to achieve their accreditation gave us the benefit of their insight and expertise which we applied to our catering practices to ensure we met their gluten free accreditation. The response from the coeliac community was overwhelming and we have seen an increase in business volumes as well as fantastic feedback." - Domino's Pizza
We've also trained over 4,500 catering staff through our Gluten Free Academy online training course covering gluten free food preparation and service.
We've got something for all caterers, whether you are in the private hospitality sector or if you cater within the educational or health related sectors. From training staff to accrediting venues, any business catering to the public can join our accreditation scheme and promote their safe gluten free catering to our vast gluten free community. As the recognised experts in gluten free, we have a wealth of experience and best practice we can share with you. To find out more contact the Commercial Team.