Gluten free accreditation
Research based audit standards, ensuring you have the best practices in place for safe gluten free catering
Promote your gluten free offerings to the gluten free community
We can help train you and your staff to safely cater gluten free
With over 3,000 venues enjoying the benefits of this scheme, our GF accreditation alongside our recognised and trusted GF trademarked symbol provides customers on a gluten free diet assurance that they can enjoy safe gluten free options at your venue. Our accreditation scheme is used across all catering environments including the health and education sectors. Whether that is dining out, having a meal in hospital or eating lunch in the school canteen.
From as little as £250, the annual accreditation fee is calculated based on the number of venues to hold the accreditation with an agreed proportion of these selected to undergo the Coeliac UK gluten free audits, costing £200 each, which are renewed annually.
Why bother?
According to a recent Coeliac UK poll(1)
96% of respondents said that their or a member of their party's gluten free needs determines where they eat out to ensure a venue will meet their dietary needs
In addition, 97% said that when they've found a gluten free venue they trust, it becomes a preferred place to visit, indicating the loyalty and repeat business the accreditation can generate
With four out of five people saying Coeliac UK's GF symbol automatically tells them that is safe to eat at the venue and a meal out costing on average of £10-£22 per person(2), there is great potential for increased revenue for venues across the UK
By keeping to our research based standard you will be making sure you are compliant with the gluten free law and able to safely cater for people following a gluten free diet.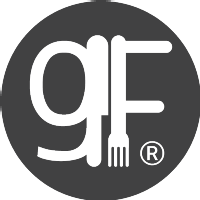 "Coeliac UK's insight and expertise has been invaluable. Their knowledge of the gluten free market helped us to really understand the needs of this audience, helping them trust our food and the careful processes we use when preparing gluten free. This has been vital to the successful launch of our gluten free range." - PizzaExpress, accredited since 2013
(1) Social media polls via Coeliac UK's Facebook and Instagram stories 25/01/2023 (n=1736 votes) ; (2) Coeliac UK Eating Gluten free 2014 (n=5304 members of Coeliac UK)
By becoming GF accredited, you receive ongoing professional support together with a range of excellent marketing opportunities:
Pre-audit consultation call to ensure you are ready for your gluten free audit.
Guidance with menus, including menu labelling.
A free online training login to our online course, covering all the key aspects of safely catering for the gluten free diet.
Use of our recognised and trusted GF trademarked symbol and window stickers for your venues.
Inclusion and priority listing of your business on our online Venue Guide and on our Live Well Gluten Free mobile App.
Announcement of your accreditation within our e-newsletter (circulated to 45,000+ members) and on our social media platforms Facebook, Twitter and Instagram (150,000+ followers)
Summary of the GF accreditation process: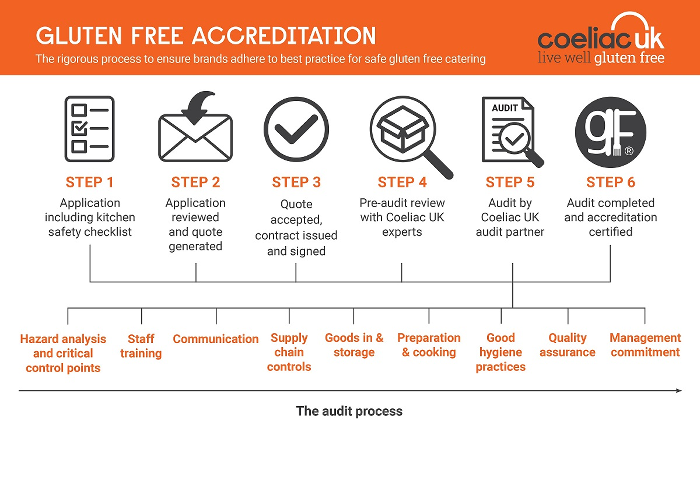 Get in touch to find out more!