Your location: Home
Caterers and restaurateurs
Caterers and restaurateurs
The catering industry is missing out on an estimated £100 million a year by not catering for people with coeliac disease and their friends and family.
80% of Coeliac UK surveyed Members said when they eat out with other people, their need for safe gluten-free options determines where they eat.
Coeliac UK can help your business tap into this lucrative market with accreditation and training.
Why cater gluten-free?
Coeliac disease affects 1 in 100 people in the UK and our research shows that people with the condition and the family and friends they eat out with are worth a potential £100 million to the industry.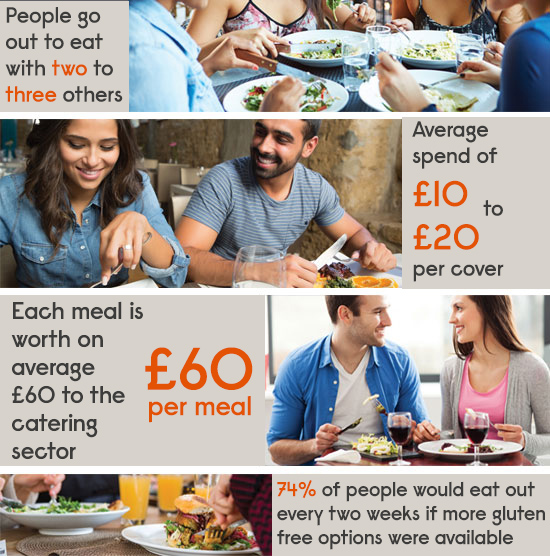 The choice over where to eat is made by the person with the condition and so it is worth making the effort to secure their loyal custom.
Some organisations and individual chefs are doing great things for people on a gluten-free diet by ensuring that they get the same quality of service as other customers. However, there still remains a huge opportunity for this market to grow, much like it has done in the retail Free From sector.
Coeliac UK works with the catering industry and offers all the tools needed to ensure compliance with the law on gluten-free and ways in which to promote your business to the growing gluten-free market.
We know that takeaway food can be difficult for people with coeliac disease and we wanted to offer an inclusive service to respond to this need. Working with Coeliac UK to achieve their accreditation gave us the benefit of their insight and expertise which we applied to our catering practices to ensure we met their gluten-free accreditation. The response from the coeliac community was overwhelming and we have seen an increase in business volumes as well as fantastic feedback.
The eating out experience for people with coeliac disease
Eating away from home is perhaps the biggest challenge facing people with coeliac disease. Increasingly, in every aspect of life, people eat and drink on the go. For people with coeliac disease, eating out can be challenging and at times frustrating.
Among our Members, the biggest issue is how to eat with confidence outside the home – where they are no longer in control. This applies to schools, the workplace, hospitals, care homes, whilst travelling and all manner of social activities.
Unfortunately the supply of gluten-free foods in the current food service sector is not keeping up with demand.
A survey conducted with over 3,000 Members highlighted that people with coeliac disease still feel that eating out is a lottery and that many eating out establishments lack knowledge and understanding about offering safe food.
We can help you understand what the gluten-free diet is and how you can cater for people with coeliac disease. Find out more about coeliac disease, what the symptoms are and how people are diagnosed.
By delivering food for a gluten-free diet you can enhance your business by accessing a largely untapped market. Find out more about gluten and the gluten-free diet. Find out how you can provide gluten-free meals.
How Coeliac UK can help you
Huge thanks for getting so many pizza and pasta chains gluten-free with Coeliac UK's accreditation. I recently had my first Girls' Night with pizza and red wine for the first time in four years and it was delicious and amazing to be able to eat out knowing that you had worked with them. I'll certainly be going back.
More Caterers and restaurateurs links
Print page
Add to My Scrapbook