Your location: Home
Gluten free catering accreditation
Gluten free catering accreditation
The hospitality industry is missing out on an estimated £100 million worth of gluten free business a year.

The GF accreditation scheme gives customers with coeliac disease assurance that they can enjoy safe gluten free options when eating out.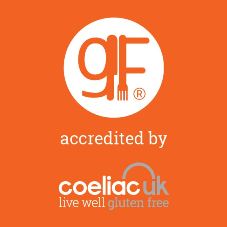 When dining out, consuming a meal in hospital or eating lunch in the school canteen, people with coeliac disease need safe gluten free options they can trust.
We offer GF accreditation to organisations that want to highlight they can safely cater for gluten free. By adhering to our standards, you can promote your gluten free offerings with our trusted GF symbol for use on menus, websites, brochures and other marketing materials.
Why get accredited?
Our GF symbol is recognised and trusted by those requiring a gluten free diet. There is a law surrounding the term 'gluten free' and by keeping to our standards, you will make sure you're compliant and able to cater for people following a gluten free diet.
We can help you communicate your gluten free offerings to our 60,000+ members. In a recent survey: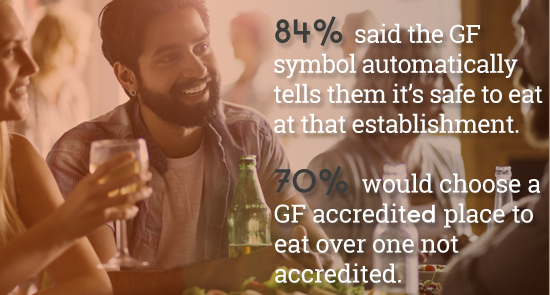 Find out more on the advantages of gaining GF accreditation from our accreditation partners.
What's involved in accreditation?
Coeliac UK and the organisation discuss current processes in the kitchen when preparing and serving gluten free food. These include looking at staff training, communication with other staff and the gluten free customer, supply chain controls, storage, preparation and cooking, and hygiene. Recommendations based on expert advice are put forward to the organisation and once in place, an audit is scheduled to ensure standards are being met.
After a successful audit, the GF symbol can be used on the organisation's materials. This recognisable and trusted symbol is a great way to illustrate your commitment to providing safe gluten free meals for your customer, patient or student.
Using the GF symbol
Once you've achieved our GF accreditation, you can use the GF trademarked symbol in a number of ways, such as on your menus, on windows and doors to capture the eye of their gluten free customer and on other marketing materials such as posters, leaflets, brochures and websites.
Find out more and get in touch
To find out more about our GF accreditation, download our accreditation information pack, call our Commercial Team on 01494 796727 or email us.
More Gluten free catering accreditation links
Print page
Add to My Scrapbook