Your location: Home
About the gluten-free diet
About the gluten-free diet
Providing gluten-free meals is easy when you have all the key information.
Our catering training is available online and face to face and teaches you all you need to know about catering for the gluten-free diet.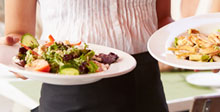 There are a huge number of foods that are naturally gluten-free, as well as gluten-free alternative products like bread and pasta. You may already be offering gluten-free choices without realising it and, with a bit of thought, it is straightforward to cater for the needs of your gluten-free customers.
Naturally gluten-free foods
Many foods are naturally gluten-free, including:
fruit, vegetables, nuts, seeds, pulses
meat, poultry, fish
eggs, soya, milk, cheese, natural yoghurt, cream
rice, corn (maize), tapioca, polenta, buckwheat, sago, arrowroot, cornflour, gram flour, potato flour, soya flour, teff, quinoa
butter, margarine and cooking oils.
Foods to avoid
Gluten can be present in food knowingly as an ingredient or accidentally by coming into contact with gluten-containing ingredients, such as wheat flour or breadcrumbs, used in the same premises.
Avoiding foods that contain gluten is essential for people with coeliac disease and dermatitis herpetiformis. Gluten is found in wheat, barley and rye.
Some people with also need to avoid oats. Most oats commonly found in shops are not suitable for use in a gluten-free diet as they are contaminated with wheat or barley.
The main sources of gluten are foods such as wheat flour, bread and rolls, pizza, pastry, pasta, crackers, biscuits and cakes.
Other foods and drinks that also contain gluten are beer, lager and stout, soy sauce, sausages, some breakfast cereals, ready meals, ready made gravies and sauces.
Always check the labels of processed foods before you use them in a gluten-free meal. Manufacturers of prepackaged foods must list all deliberate ingredients in food products. Learn more about reading labels, labelling legislation and the law on gluten-free food.
Gluten-free alternatives
There is a wide range of gluten-free alternatives to staple foods such as bread, rolls and pasta. If you cannot obtain them from your main suppliers, try contacting some of the specialist suppliers in our Food and Drink Directory.
Find out more on catering gluten-free
Find out more on why you should cater for the gluten-free diet and take our catering training courses to teach you everything you need to know.
Print page
Add to My Scrapbook