Your location: Home
Training with us
Training with us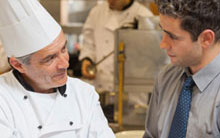 Coeliac UK is widely recognised as the gluten-free expert. Through our range of catering training courses, we can share our knowledge and expertise with you; paving the way for more choice for those following a gluten-free diet.
Our training courses will provide you and your staff with the knowledge and confidence needed to deliver a wide range of tasty, safe gluten-free food, within the boundaries of the law.
Our courses are designed to educate catering professionals working within the private, health and education sectors.
What you'll learn:
understanding coeliac disease
what people with coeliac disease need
why serve gluten-free?
the law on gluten-free
managing gluten-free: the basic principles of catering gluten-free encompassing:

choosing and using the right ingredients
storage
preparing and cooking gluten-free food
cleaning and personal hygiene
communicating with your staff
serving gluten-free meals - communicating with consumers
labelling your menu.
Our training is available as a four hour face to face session or online for your convenience. Face to face sessions can be either at your venue or at one of our open course venues which run in different locations across the UK.
Face to face courses
Training your team at your venue - for 15 or more people
In house training is available for multiple staff at your organisation. Delivered at your venue, we can train groups of 15 or more people in one four hour session. We can tailor the course specifically to meet your needs and include discussions around your organisation's processes. Please email Chris Harrison for a quote and more information.
Online courses
Our online courses cover the essentials of gluten-free catering for the private, education and health sectors.
All three courses cover the same content but use relevant sector examples to help make the training more realistic and relevant to your organisation. The course may appeal to those with little spare time or to people who learn best by studying in bite sized chunks.
The course runs for around 1.5 hours and costs £35+VAT.
Professional certificate awarded on completion.
Visit our online catering training website now to complete the relevant course.
Our private sector course is designed specifically for those working in restaurants, cafes, catering companies, leisure facilities, or other hospitality based venues where food can be served. The course is relevant for both kitchen and front of house catering staff who are preparing or serving meals for customers requiring gluten-free options.
Our education sector course is tailored for nurseries, schools, colleges and universities so you can cater for students who require a gluten-free diet.
Our health sector course is crafted for catering staff who work in hospitals, residential and care homes so you can look after those who require a gluten-free diet.
Find out more on catering gluten-free
Find out more on why you should cater for the gluten-free diet and take our catering training courses to teach you everything you need to know.
More Training with us links
Print page
Add to My Scrapbook