Dr Imran Aziz, Royal Hallamshire Hospital, Sheffield Functional Gastrointestinal Disorders (FGIDs) and coeliac disease
Dr Aziz explores the relationship between functional gastrointestinal disorders (FGIDs) and coeliac disease, including the prevalence of symptoms of FGIDs among people with coeliac disease and the relationship between irritable bowel syndrome and coeliac disease. The treatment of ongoing symptoms with a low FODMAP diet is also explored.
Biography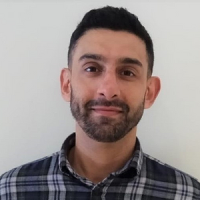 Dr Imran Aziz qualified from Sheffield Medical School in 2004 and became a Consultant Gastroenterologist in 2016. During this time he has published on irritable bowel syndrome, coeliac disease and successfully defended his postgraduate thesis on non-coeliac gluten sensitivity. Imran undertook a two-year post-doctoral fellowship in FGIDs at the Sahlgrenska Academy, University of Gothenburg, Sweden and returned back to Sheffield in October 2018 as a Senior Clinical Lecturer and Honorary Consultant Gastroenterologist.
He conducts multi-collaborative clinical research trials focusing on improving the lives of patients with FGIDs, whilst also supervising medical and PhD students. His work has subsequently been published in major journals, with him lecturing both nationally and internationally. Dr Aziz has recently been awarded the highly prestigious United European Gastroenterology (UEG) Rising Star Award 2021.