The gluten free diet
The only treatment for coeliac disease is a strict, lifelong gluten free diet
Gluten is found in wheat, rye, barley and oats. Some people also react to a similar protein, avenin, found in oats
A gluten free diet should only be initiated once all testing for coeliac disease has been completed
Calcium recommendations are higher for people with coeliac disease than the general population
Folic acid recommendations during pregnancy are higher for women with coeliac disease compared to the general population
Information and support on the gluten free diet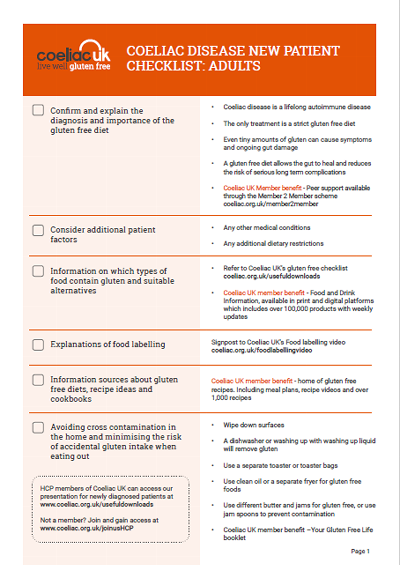 After diagnosis with coeliac disease, a healthcare professional with specialist knowledge of coeliac disease, such as a gastroenterology dietitian, should provide information about the gluten free diet.
Following a gluten free diet is a significant lifestyle change and it is important to provide information and support for patients on a wide range of areas such as how to read food labels, managing social situations and avoiding cross contamination. We have developed a checklist for new patients with the support of NHS dietitians specialising in coeliac disease to help you cover the key aspects of the gluten free diet with your patients.
The checklist also signposts to resources from Coeliac UK to support you and your patients including our food and drink information which provides information on product suitability of over 100,000 gluten free and mainstream foods. This information is available on our website and by using our Live Well Gluten Free app. You can access these resources by joining Coeliac UK as a Healthcare Professional member.
Support for patients while they wait to see a dietitian
We know that there can be long waiting times to see a dietitian. We're here to support you and your patients and Nicola, one of our expert dietitians has helped us to create four videos to talk your patients through the basics of the gluten free diet. The videos cover:
About coeliac disease
The gluten free diet
Reading food labels
Cooking and eating out
You can refer your patients directly to these videos at coeliac.org.uk/dietitianvideos
For your patients who don't have internet access, our helpline is open 10am-4pm, Monday to Friday.
Oats
Only oats which are labelled as gluten free are suitable for people with coeliac disease. This is because oats are often contaminated with cereals containing gluten during processing.
A small proportion of people with coeliac disease are sensitive to a protein called avenin, which is similar to gluten. Avenin is found in all oats, including gluten free oats.
The British Society of Gastroenterology recommend that gluten free oats may be introduced to the diet at diagnosis.
NICE recommends to explain to people with coeliac disease that;
they can choose to include gluten free oats in their diet at any stage

they will be advised whether to continue eating gluten free oats depending on their immunological, clinical or histological response.
As part of a patient's ongoing monitoring the use of oats should be reviewed. Catch up on the latest development on oats and coeliac disease from Coeliac UK funded researcher, Jason Tye-Din.
See our information for your patients on oats in the gluten free diet.
Calcium and vitamin D
Low bone mineral density is common in people with coeliac disease at diagnosis so ensuring that calcium and vitamin D intakes are sufficient is important.
The British Society of Gastroenterology, recommend that adults with coeliac disease should have at least 1,000 milligrams (mg) of calcium each day.
Public Health England and the Scottish Government provide advice on vitamin D intakes, based on recommendations from the Scientific Advisory Committee on Nutrition. We have information on nutritional deficiencies and supplements including vitamin D supplementation.
We have information for patients on how to achieve the recommended calcium intake.
Folic acid
Folic acid supplements are recommended for women during the three months before conception and the first 12 weeks of pregnancy. The recommendation for the general population is 400µg folic acid, but our Health Advisory Council recommend a higher level of 5mg folic acid for women with coeliac disease as a precaution in case of ongoing malabsorption.
Folic acid is important during pregnancy to protect against neural tube defects (NTDs) such as spina bifida. There is no evidence to suggest that people with coeliac disease are more at risk of NTDs and the recommendation for a higher folic acid level during pregnancy is precautionary in case there is ongoing damage in the gut which could reduce absorption of vitamins such as folic acid.
Folic acid supplementation may mask the symptoms of vitamin B12 deficiency, so regular monitoring is important.
Lactose intolerance
Undiagnosed or untreated coeliac disease is a frequent cause of secondary lactose intolerance. We have information on lactose intolerance and a downloadable leaflet you can use to help your patients. Read more about managing lactose intolerance.

Diabetes
For patients with diabetes and coeliac disease, blood glucose levels should be monitored closely following coeliac disease diagnosis as insulin levels often need to be altered due to the increased absorption of carbohydrate. Gluten free alternatives to wheat-containing bread, pasta, biscuits and flour have comparable Glycaemic Indeces as their gluten-containing counterparts, and therefore should not necessarily compromise the diet in terms of the glycaemic load.