GP Resources
On this page you'll find a whole host of resources to support you in diagnosis and management of coeliac disease including:
An update on diagnosis and management of coeliac disease from GP, Dr Geraint Preest
Coeliac UK's GP newsletter
Tools to support you with testing for coeliac disease
A checklist to make sure you cover all the key elements of a coeliac disease annual review
Support from Coeliac UK for your patients
Dr Geraint Preest – A GP's perspective: coeliac disease – so many patients, so little time.
In this video from our 2021 Research Conference, Geraint, a GP and member of Coeliac UK's Health Advisory Council gives a summary of diagnosis and management of coeliac disease.
General practice in 2021 is busier than ever. Finding and managing patients with coeliac disease is a challenge in the primary care setting, particularly when our knowledge of so many different conditions is quickly evolving. In this brief talk for GPs, Geraint starts with a short historical perspective from 1920 and brings this up to date with a video of patients' experiences. He utilises feedback from Doctors and patients via social media, along with his own experience of medical education - and as a father of a daughter with coeliac disease - to bring together a few key points to help GPs diagnose and manage patients who may have coeliac disease.
GP Newsletter
Stay up to date with the latest developments in coeliac disease and the gluten free diet. Sign up for our bi-annual GP newsletter.
Diagnosis
Our one page infographic on diagnosis and management of coeliac disease covers the key symptoms of coeliac disease, how to test and a summary of management guidance.
Browse the HCP section of our website on who to test, testing for coeliac disease in adults and children and seronegative coeliac disease.
To help your patients understand coeliac disease and the steps involved in diagnosis, we have developed a short animation to explain the symptoms, diagnosis and treatment. It is available in English, Welsh, Arabic, Bengali, Polish, Punjabi and Urdu.
Sign post your patients to www.coeliac.org.uk/coeliac-disease to view these animations.
Annual Review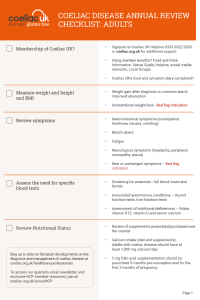 Our annual review checklist helps to make sure you consider all the key points when reviewing a patient with coeliac disease and signposts to useful Coeliac UK resources.

We also have more detailed information about vaccinations for people with coeliac disease and gluten free food on prescription.
Support for your patients
Our Gluten Free Checklist is a useful resource for your patients when starting a gluten free diet to help them identify foods which are suitable for a gluten free diet.
We know that there can be long waiting times to see a dietitian. Nicola, one of our expert helpline dietitians features in our videos for newly diagnosed patients to talk through the basics of coeliac disease and the gluten free diet. Signpost your patients to coeliac.org.uk/dietitianvideos to watch the videos.

Children
For children, our Young Champions pack can be ordered online. The pack aims to give anyone aged 5 to 11 the confidence to talk about their coeliac disease. The pack includes lots of activities for children to do with their class, friends, family or community group, with supporting materials.
Going to school when you need a special diet can be difficult. We have packs for schools and parents and information about gluten free food at school.
Young adults
Whether moving out of the family home, heading to University or going travelling our Moving On pack contains hints and tips for managing a gluten free diet which can be particular difficult when living with a shared kitchen.
Coeliac UK membership
Coeliac UK membership starts from just £1.25 a month and provides access to exclusive member resources to help your patients live well gluten free, including:
our Live Well Gluten Free app to help with food shopping and eating out
Live Well Gluten Free magazine
gluten free recipes
gluten free product news
travel guides
exclusive offers and discounts
community networks including local groups and member2member service
Member2Member
We know that some people with coeliac disease need that additional support to help them understand their diagnosis and navigate the changes needed for living gluten free. Our Member2Member mentoring programme does exactly that. We pair members with other members that have the experience to help. Find out more at www.coeliac.org.uk/member2member
Do you have a question about coeliac disease and the gluten free diet? Get in touch with us by email or by calling our Helpline on 0333 332 2033.