Annual review
Guidance for follow up
NICE and the BSG recommend that people with coeliac disease are offered an annual review.
Review appointment
NICE provides recommendations for monitoring people with coeliac disease:
measure weight and height
review symptoms
make a decision on the need to complete a full diet assessment and adherence to the gluten free diet
make a decision on the need for referral to specialist dietitian for nutritional advice
The NICE quality standard on coeliac disease also highlights that patients living in socioeconomically deprived areas are less likely to attend an annual review and that healthcare professionals should therefore agree a local approach to encourage as many people as possible to attend.
Review appointment checklist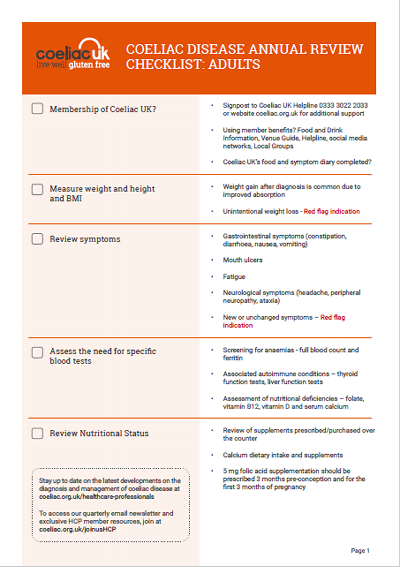 When patients attend for their follow up appointment they often return with lots of questions about their new diet and lifestyle. Our annual review checklist has been developed with NHS dietitians specialising in coeliac disease. The checklist covers the key areas to consider during annual review and also signposts to further Coeliac UK resources to support you and your patients.
Ongoing symptoms
The majority of individuals with coeliac disease report a rapid clinical improvement after starting a gluten free diet and symptoms usually improve within a few weeks. However, there are a number of people with coeliac disease who do not respond to the gluten free diet or who respond initially and then see a recurrence in their symptoms.
Further information on non-responsive and refractory coeliac disease, including information about support available from specialist centres is available on our website.
Read more about non-responsive and refractory coeliac disease