Dr Hugo Penny  Persisting symptoms in coeliac disease: A stepwise approach
While most individuals will display improvement in symptoms and signs of coeliac disease following starting a gluten-free diet, up to 30% will continue to experience symptoms and/or have persisting intestinal inflammation. This can be due to a range of causes including ongoing gluten exposure, slow mucosal healing, refractory coeliac disease, and/or an associated condition.
In this talk, Dr Penny outlines an approach to the investigation and management of patients with coeliac disease and persisting symptoms.
Biography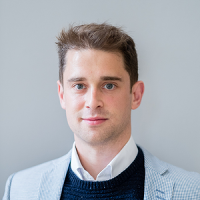 Dr Hugo Penny is an NIHR Clinical Lecturer and Specialist Registrar in Gastroenterology at The University of Sheffield and Sheffield Teaching Hospitals Foundation Trust. He has previously completed a PhD in mucosal immunology at the University of Manchester. Hugo currently works within the NHS England Rare Disease Collaborative Network on Non-Responsive and Refractory Coeliac Disease, which is a national referral service for the investigation and management of complex coeliac disease.