Dr Yvonne Jeanes RD   Patient preferences for dietetic and healthcare appointments: adults with coeliac disease 
Innovative service provision has been developed to improve patient experience, quality of care and cost savings in the face of increasing patient numbers and the Covid-19 pandemic. Digital content is not new, it was being incorporated into patient pathways before 2020. International guidelines recommend regular follow up, however, there is very limited evidence for best practice and no consensus for the frequency, healthcare profession involved, nor the provision offered.
Our study revealed, those who value annual reviews had significantly lower health literacy score, lower gluten free dietary knowledge score and poorer gluten free dietary adherence score compared with those who did not consider annual reviews important. Our study reports over 50% of adult with coeliac disease preferred in-person appointments, with a greater proportion from lower household incomes and those without a degree qualification preferring in-person appointments.
There is a need to evaluate the different formats of service delivery. It is important to include the voice of patients, inclusive of different ethnicities, those who are not adhering to the GFD or who are not attending annual reviews, to enable the healthcare service to reach those in particular need. It's important to remember one size does not fit all.
Biography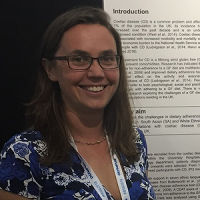 Associate Professor in Health Sciences, University of Roehampton, UK
Dr Yvonne Jeanes is a registered dietitian with clinical, teaching and research experience. She studied at the University of Surrey and in 2004 completed her PhD in Nutritional Biochemistry. At the University of Roehampton she has taught undergraduates and postgraduate healthcare professionals for over 15 years and currently leads the MSc Clinical Nutrition programme and the 'living gluten free' research.
Since 2014, her research has focused on the nutritional adequacy, and practicalities, of living gluten free and more recently the evolving healthcare provision for persons with coeliac disease. Dr Jeanes and Dr Muhammed were awarded the DSI International Nutrition Award in 2016. Dr Jeanes was a member of the British Dietetic Association (BDA) working group responding to the Government consultation on gluten free prescribing and subsequently authored the BDA policy on gluten free prescribing.
Dr Jeanes is the Research and Policy Lead for the BDA Gastroenterology Specialist Group, a BDA clinical lead for coeliac disease, a member of the Coeliac UK's Health Advisory Network and sits on the European Federation of the Associations of Dietitians (EFAD) Research and Evidence Based Practice Committee.