Celebrate all things gluten free at Coeliac UK's Gluten Free Food Festival!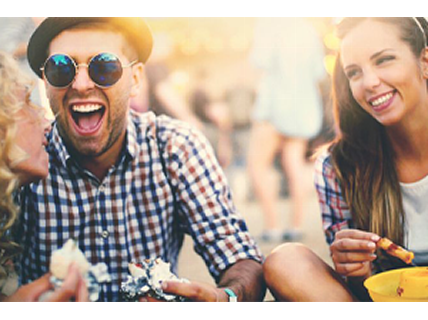 20 June 2019
Are you ready to celebrate all things gluten free at Coeliac UK's annual Gluten Free Food Festival on 22 June in Sand Hutton, York?
Our annual Gluten Free Food Festival is almost upon us and will this year, for the first time, be taking place at the Lakeside Conference Centre in Sand Hutton, York.
This truly is a day to celebrate all things gluten free, where you'll have the opportunity to sample and buy a range of scrumptious gluten free delights from local and national producers.
There'll be a chance to book in to a free dietetic clinic with a registered dietitian as well as specialist talks from our dietitians and leading Gastroenterologist Dr Hugo Penny.
The fun doesn't stop there, as Coeliac UK's Home Economist Louise Wagstaffe will be holding cookery demonstrations, along with Coeliac UK supporter and MasterChef Winner Jane Devonshire, who'll also be signing copies of her latest cookbook, Hassle Free Gluten Free. Our newly appointed CEO Hilary Croft will also be joining in on the cookery demonstrations too.
You'll also be able to get a research update from Dr Alan Perkins and Dr Iain Croall and our Annual General Meeting will be taking place on the day, so you'll get a chance to hear more about what Coeliac UK is doing for you.
There'll also be a range of onsite caterers there on the day so the whole family can dig into a gluten free lunch.
The event is free to attend, so don't miss out on a fabulous day out - register for your tickets here: www.coeliac.org.uk/glutenfreefoodfestival.