Coeliac disease in children
Coeliac disease affects one in 100 children in the UK.
Most children are undiagnosed and don't get diagnosed until later in life.
Symptoms include diarrhoea, constipation and other gut symptoms, faltering growth or a change in growth pattern, irritability and a bloated tummy.
In undiagnosed, untreated coeliac disease there is a greater risk of complications including impaired weight gain and growth problems, delayed puberty, iron deficiency anaemia, chronic fatigue and osteoporosis.
A gluten free diet should only begin once a child is formally diagnosed with coeliac disease by a healthcare professional.
Coeliac disease in children is common, affecting one in 100 children in most of Europe, however, most children have not yet been diagnosed.
Untreated coeliac disease can mean serious health complications like impaired weight gain and growth problems, delayed puberty, iron deficiency anaemia, chronic fatigue and even osteoporosis, so it's really important to get your child tested if they show any of the classic symptoms of coeliac disease in children:
bloated tummy
irritability
diarrhoea, constipation and other gut symptoms
faltering growth or a change in growth pattern.
The first step in diagnosis is to discuss your concerns with your child's GP. You can take our online assessment on their behalf to see if their symptoms could be coeliac disease. You can then print the results and take these to your doctor to help your conversation.
Do not remove gluten from their diet until they are diagnosed by a healthcare professional.
Diagnosing children
Some children may be diagnosed based on blood tests and may not require a biopsy. In any case, diagnosis of coeliac disease in children should be made by a paediatrician or a paediatric gastroenterologist. Your GP can arrange the initial blood test and if positive, should then refer your child to a specialist for further testing.
ESPGHAN published updated guidelines in September 2019 around a no-biopsy diagnosis. A no-biopsy diagnosis can be made if children have very high antibody levels in their first blood test followed by a positive second antibody blood test. The ESPGHAN guidelines also recommend that the no-biopsy diagnosis can be offered to children without symptoms of coeliac disease (asymptomatic children). If this approach is being considered for your child it will be important to have a detailed discussion with your healthcare team to decide what is best for your child. Here are some questions you may wish to consider:
How likely is it that the biopsy would show that it isn't coeliac disease?
How close were the blood test results to the cut off level for a no-biospy diagnosis?
If the diagnosis of coeliac disease is questioned in the future, how would we challenge the diagnosis?
Would having a biopsy proven diagnosis impact how strictly my child follows the diet?
Coeliac UK and BSPGHAN joint guidelines are being updated following the latest guidelines from ESPGHAN.
Follow up for children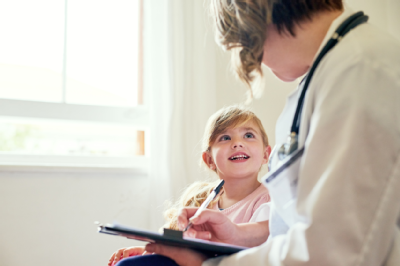 Once your child is diagnosed, BSPGHAN recommend ongoing monitoring by an experienced paediatric dietitian and paediatric gastroenterologist. Children should be followed up six to 12 months after diagnosis and then with a yearly check up after this. This should include an antibody blood test every year or less often. Another biopsy may be offered but is not carried out routinely.
Children should also have their height and weight checked to monitor their growth and development.
However, if your child's symptoms have not improved or have got worse since following the gluten free diet, speak to your healthcare team.
Managing your child's coeliac disease and ensuring they receive the appropriate follow up care can be overwhelming. We are here to help with over 50 years of expertise in all things gluten free. Call our helpline team on 0333 332 2033 for friendly advice and we can help you through.
For more information, take a look at our interviews with top coeliac disease experts for tips on what care to expect.
Find out more
Download our fact sheet on supporting a child with coeliac disease below, and check out our joint manifesto and infographic, produced with the Association of European Coeliac Societies (AOECS) and the ESPGHAN. We also have a leaflet for younger children (up to about age six) called The Belly Bunch.