Royal Parks Half Marathon
To be a part of Team Coeliac UK at the 2023 Royal Parks Half Marathon, please contact the Fundraising Team.
Key information
Dates: Sunday 8 October
Location: London
Event type: Running
Distance: 13.1 miles
Level: Moderate
Registration fee: £30
Minimum fundraising pledge: £400
As the name suggests, the Royal Parks Half Marathon takes runners on closed roads through four of London's stunning royal parks (Hyde Park, Kensington Gardens, St James's Park, and Green Park). It also passes several of the capital's world famous landmarks, including Buckingham Palace, Downing Street and Trafalgar Square.
Although undulating in parts, the course is not hilly and is great for either experienced or first time half marathon runners. This city run with a twist is an experience not to be missed!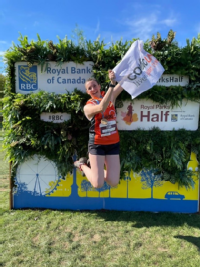 All our runners will receive:
Coeliac UK running vest & t-shirt
Coeliac UK Fundraising Pack
Fundraising support, advice and materials
For more information about this event, or to request a fundraising pack, please contact fundraising@coeliac.org.uk or call our Fundraising Team on 01494 796136.