Your location: Home
Work for us
Work for us
You can work for the Charity in lots of different ways
We have over 1,000 volunteers.
Our Governors come from a wide range of backgrounds, including finance, healthcare, IT, marketing and campaigning.
Coeliac UK staff work in diverse roles ranging from dietetic advice to social media to database management.
We are proud recipients of an Investors in People Bronze award, showing our commitment to our staff and their professional development.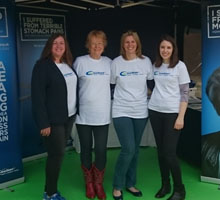 Coeliac UK needs committed and skilled employees to provide the best service for our beneficiaries.
As employers, we strive to match their commitment with our own. We provide working conditions which recognise the diverse circumstances of our staff and we invest in developing their skills for the benefit of the employee and the Charity.
In recognition of our commitment, we have achieved an Investors in People Bronze award. The IIP accomplishment has placed the Charity in the top 12% of organisations reaching the standard, which is achieved by just over 5% of all Investors in People recognised organisations in the whole of the UK.

The IIP assessor added "The high levels of employee engagement, staff morale and work satisfaction at Coeliac UK was evident in the very high numbers of long serving employees. The level of loyalty and pride was extremely high."
Trusts Consultant
Coeliac UK is currently inviting submissions for the provision of trust fundraising consultancy services.
Please return your completed submission no later than 12:00 midday on 26 November to helen.north@coeliac.org.uk.
Download the information document, including the submission form.
No agencies please
Volunteers
We have a fantastic variety of volunteering roles, giving you the chance to gain unique experiences and to help continue Coeliac UK's support in the community. Get in touch with your Local Group or find out more information on any of Coeliac UK's volunteering opportunities, or email volunteering@coeliac.org.uk for any further information.
Coeliac UK is committed to employee and volunteer equal opportunities and offers a range of flexible working practices.
What we offer our employees
Competitive salaries based on national and regional salary comparison data to ensure our salary scales are competitive.
Entry into a money purchase pension scheme, matching contributions of up to 6% of salary.
28 days annual leave plus bank holidays.
Consideration of sabbaticals and alternative workplace secondments where possible.
Flexible working hours.
Better than statutory paid maternity and paternity leave.
Support and encouragement towards obtaining professional qualifications relating to their job at Coeliac UK, offering financial assistance where possible and time off for study periods.
Paid leave in the following areas: Adoption leave, emergency leave, parental leave and paternity leave.
Print page
Add to My Scrapbook