Research Strategy Board
Our Chair
Professor Alan Perkins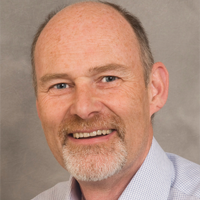 Alan is a Professor of Medical Physics at the University of Nottingham and Honorary Consultant Clinical Scientist, Nottingham University Hospitals NHS Trust. Professor Perkins is also a member of Coeliac UK having been diagnosed with coeliac disease in 2010 after a brief period of acute anaemia. This was the first time in his life he had been a patient in the hospital he had worked in for 30 years. He brings not only a personal insight into the condition but vast expertise in research, and along with the Board, will help us to work towards a step change in research into coeliac disease.
Other members of the Research Strategy Board
Dr Geoff Barker

Retired Professor of OroMaxillofacial Surgery Medicine and Pathology, adjunct Professor of Immunology, Medical Practitioner, co-editor and author of Pharmaceutical Medicine and diagnosed with coeliac disease.
Professor Paul Klenerman

Immunologist, University of Oxford and John Radcliffe Hospital.
Dr Michael Murray

Works with the development and commercialisation of intellectual assets. He has previously been involved with the development of a new therapy for coeliac disease. He has a PhD in molecular genetics and a first degree in microbiology.
Dr Jeremy Woodward

Completed a PhD in immunology prior to his appointment as a consultant gastroenterologist at Addenbrooke's Hospital, Cambridge. He is the lead clinician for nutrition and chairs the Trust nutrition steering group. He provides specialist clinics in coeliac disease.
The RSB will advise our Board of Governors on the best practice for reviewing and awarding research grants and any necessary policies relating to our Research Strategy, including intellectual property rights, data sharing and ethics.