Health Advisory Council and Network
The Health Advisory Council (HAC) advises the Board of Governors on scientific and health issues helping to ensure that the Charity's information and advice remains expert and up to date. The Council comprises eminent health experts from across the UK.
We also take advice from a broader forum, our Health Advisory Network (HAN), drawn from a range of healthcare backgrounds. Our Network also help the Charity by championing our cause in their professional fields.
Professor David Sanders, Chair of our Health Advisory Council
I am Professor David Sanders, the Professor of Gastroenterology and a Consultant Gastroenterologist at the Royal Hallamshire Hospital & the University of Sheffield. I have been involved in setting up the Sheffield Institute of Gluten-Related Disorders (SIGReD) to improve diagnosis of coeliac disease, through increased recognition of symptoms. The coeliac disease clinic at Sheffield's Royal Hallamshire Hospital is the largest centre for gluten-related diseases in the UK.
In 2010 I received one of the European Rising Star Awards in GI research and the Coeliac UK Healthcare Professional of the Year Award. I also work as part of the Sheffield Small Bowel Endoscopy Service which won one of the inaugural British Society of Gastroenterology National GI Care awards in 2011. The UK Nutrition Society awarded me with the Cuthbertson Medal in 2011 for research undertaken in clinical nutrition. In 2012 I was part of the Percutaneous endoscopic gastrostomy team which won both the Health Service Journal primary care and integrated clinical care awards. I am the current chair of the British Society of Gastroenterology Audit Committee and also the Chair of the Coeliac UK Health Advisory Council.
Dr Joe West, Member of our Health Advisory Network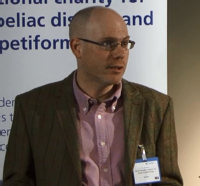 I am Joe West, a Consultant Gastroenterologist and Associate Professor at Nottingham University and have spent much of my previous research time investigating the consequences of coeliac disease. I continue to have an ongoing clinical and research interest in the disease.
When invited, I was delighted to join the Health Advisory Network (HAN) for Coeliac UK. As part of a wide network of various health professionals I provide information and responses to queries from Coeliac UK regarding various topics. These can range from the interpretation of new research, commenting on policy statements and attemtping to answer specific queries from Members of the Charity.
By being a member of HAN I hope to contribute to the ongoing work of the Charity in its support of people with coeliac disease in providing up to date and accurate information about the disease. I also gain the valuable resource of the wide network of contacts that make up the HAN and enjoy the challenge of coming to a consensus about complex issues.
Health Advisory Council Members
Professor David Sanders (Chair), Consultant Gastroenterologist, Royal Hallamshire Hospital, Sheffield

Dr Ieuan Davies, Consultant Paediatric Gastroenterologist, University Hospital of Wales
Siân Evans, Acute Paediatric Dietitian, University Hospital of Wales, Cardiff
Dr Peter Gillett, Consultant Paediatric Gastroenterologist, Royal Hospital for Sick Children, Edinburgh

Professor Marios Hadjivassiliou, Consultant Neurologist, Royal Hallamshire Hospital, Sheffield

Alison Longbottom, Advanced Clinical Specialist Gastroenterology Dietitian, York Hospital

Kyrene Moynihan,

Specialist Paediatric Dietitian, Western Health and Social Care Trust

Isobel Mason, Nurse Consultant, Royal Free Hospital, London

Dr Geraint Preest, General Practitioner, Pencoed Medical Centre, Wales

Dr Gerry Robins, Consultant Gastroenterologist, The York Hospital NHS Foundation Trust
Professor Ian Sanderson, Paediatric Gastroenterologist, Barts and The London School of Medicine & Dentistry
Dr Sophie Velleman, Specialist Clinical Psychologist, Bristol Royal Hospital for Children
Joy Whelan, Gastroenterology Advanced Practitioner (Dietetics), Shantallow Health Centre, Derry
Dr Jeremy Woodward, Consultant Gastroenterologist, Addenbrooke's Hospital
Health Advisory Network Members
Dr Charlie Andrews, GP, Clevedon
Tony Cartwright, Pharmacist Consultant, Global Regulatory Solutions Ltd
Dr Jane Candlish, Statistician
Dr Helen Gillett, Consultant Gastroenterologist, St John's Hospital, Livingston

Professor Michael Harris, GP and Honorary Senior Research Fellow at the College of Medicine & Health, University of Exeter

Dr Geoff Holmes, Department of Gastroenterology, Royal Derby Hospital, Derby

Dr Ruth Howard, Consultant Clinical Psychologist, University of Birmingham

Dr Yvonne Jeanes, Principal Lecturer - Clinical Nutrition, University of Roehampton
Claire Stuckey, Specialist Gastroenterology Dietitian, Royal Bournemouth Hospital
Nick Trott, Specialist Gastroenterology Dietitian, Royal Hallamshire Hospital, Sheffield
Dr Ajay Verma, Consultant Gastroenterologist, Kettering General Hospital
Dr Joe West, Consultant Gastroenterologist, University of Nottingham Medical School
Natalie Yerlett, Dietetic Lead, Great Ormond Street Hospital