Raffle
Enter the Christmas Raffle for a chance to win incredible cash prizes
Playing our Christmas Raffle will give you the chance to win amazing cash prizes just in time for Christmas AND support families who need to live gluten free over the festive season.
Play today and help support those who need it.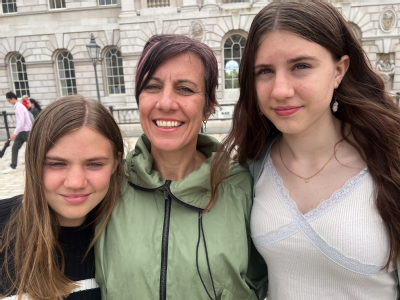 Supporter and mum of two, Nic Kemp is grateful for the vital help she and her family have received from us over the years, following the diagnosis of both her daughters at a young age.
"Coeliac UK were there for me when I needed them most – make sure they are there for anyone who reaches out."
Prizes to get excited about!
Every ticket you buy will go towards supporting people who need to live gluten free, while giving you the chance to win an incredible £10,000 cash first prize! As if that isn't enough, there are over 100 other cash prizes to be won, including a second prize of £1,000 and a third prize of £500.
The closing date for the raffle is 12 December 2023. Entries cost just £1 and the money raised will help us to continue to support families who need to live gluten free. Play online or call the raffle hotline on 01628 511 708.
Terms and conditions for the Coeliac UK raffle, including rules and regulations for players and problem gambling information. This raffle is only open to United Kingdom residents over the age of 18 (this excludes Isle of Man, Channel Islands and BFPO addresses according to the Gambling Act 2005 regulations).
Coeliac UK is a charity registered in England and Wales (1048167) and in Scotland (SC039804) and a company limited by guarantee in England and Wales (3068044). Coeliac UK is licensed and regulated in Great Britain by the Gambling Commission under account number 4895. Responsible person: Helen North, 3rd Floor, Apollo Centre, Desborough Road, High Wycombe, Bucks, HP11 2QW.
Frequently Asked Questions
How often does Coeliac UK hold its Raffles?
We hold our Raffles twice a year - all winners and their winning ticket numbers are available on our website within two weeks of the draw taking place.