Raffle
Could you be our £10,000 winner for the Autumn Raffle? Play Now!
Every entry you buy will go towards supporting people living gluten free, while giving you the chance to win an incredible £10,000 cash first prize! There are also 12 other cash prizes to be won, including a second prize of £1,000 and a third prize of £500.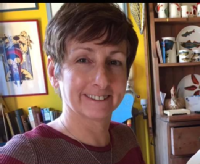 Alison is one of our raffle players, and she became the 2018 Summer Raffle £10,000 winner.
'It's my way of helping Coeliac UK reach more people who need to live gluten free. And I enjoy the thrill of the draw! I never expected to win and it felt amazing to receive the call to say that I had won the top prize of £10,000!
I do hope you will join me in playing the Autumn Raffle 2019. Every ticket you buy makes a real difference to the impact that Coeliac UK can have and you could be a bigger winner just like me! - Alison, Member and Raffle and Lottery Player
Fancy 10 more prizes? Play the Autumn Raffle before 6 September and you will be entered in to the Fast Entry Prize Draw where you could win 1 of 10 £50 M&S gift cards.
Thanks to your incredibly generous support Coeliac UK has received so far, we are able to offer expert advice on diet, diagnosis and health - from simple questions, to help and support on the more challenging aspects of a gluten free diet. Not only is the support and advice given over the phone and by email, but also through a live chat on social media once a week.
Terms and conditions for the Coeliac UK raffle, including rules and regulations for players and problem gambling information. This raffle is only open to United Kingdom residents over the age of 18 (this excludes Isle of Man, Channel Islands and BFPO addresses according to the Gambling Act 2005 regulations).