Raffle Playing the raffle today means we can support you
Our Spring Raffle is now closed. Thank you for playing and supporting our volunteers
The last 12 months have been tough for everyone but our fantastic volunteers have been there throughout, working hard to provide the support that many of our community have needed.
Your support through the Spring Raffle means that we have been able to keep our volunteers doing what they do best – supporting people when they need it - in so many different ways. Sharing advice and having a friendly ear when you need gluten free help can make all the difference in the toughest moments.
You can find out if you were one of our lucky winners here.
Prizes included: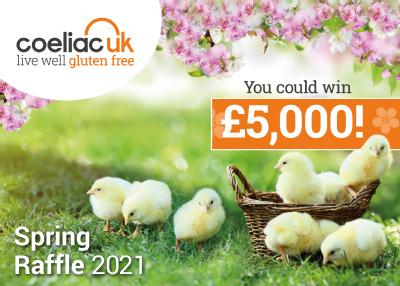 Top prize £5,000
Second prize £1,000
Third prize £500
Fourth Prize £100 (4 prizes available)
30 runner up prizes of £10
Plus 25 Fast Entry prizes of a Coeliac UK Goodie Bag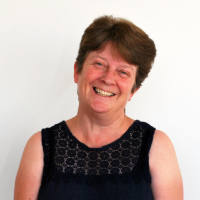 "As the Volunteers Coordinator at Coeliac UK, one of the great things about my job is that I get to work with wonderful, hard-working and selfless volunteers who offer their time so generously. Like so many of you, it has been hard not being able to spend time with my family and friends, but it's also been disheartening not being able to see our amazing volunteers in person and give them the support they need.
I am hopeful of a better tomorrow, but if you are feeling alone, or needing help please don't hesitate to get in touch with us here at Coeliac UK.
I do hope you will take part in the Spring Raffle and thank you for your support."
Sian Paskin
Keep your eyes peeled for our fantastic Christmas Raffle, coming in October 2021
Spring Raffle online entries closed 19 May 2021
The draw took place on 21 May 2021
Winners can be found by visiting www.raffleplayer.com/CoeliacUK
Terms and conditions for the Coeliac UK raffle, including rules and regulations for players and problem gambling information. This raffle is only open to United Kingdom residents over the age of 18 (this excludes Isle of Man, Channel Islands and BFPO addresses according to the Gambling Act 2005 regulations).
Coeliac UK is a charity registered in England and Wales (1048167) and in Scotland (SC039804) and a company limited by guarantee in England and Wales (3068044). Coeliac UK is licensed and regulated in Great Britain by the Gambling Commission under account number 4895. Responsible person: Helen North, 3rd Floor, Apollo Centre, Desborough Road, High Wycombe, Bucks, HP11 2QW.
Frequently Asked Questions
How often does Coeliac UK hold its Raffles?
We hold our Raffles twice a year - all winners and their winning ticket numbers are available on our website within two weeks of the draw taking place.