Volunteer for us
Our gluten free community is full of fabulous people who have learned about gluten free living and want to give back to others
Volunteering can help you learn new skills, meet new people and gain confidence, whilst making a difference
Sharing your experiences of living with coeliac disease and following a gluten free diet could make such a difference to someone who is just starting out.
Volunteer for us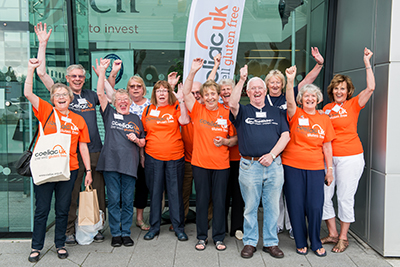 Coeliac UK has over 1,000 volunteers who play a crucial and direct role in supporting our gluten free community. We have a range of ways to get involved by helping others, and it needn't take up lots of time.
You can help to improve the lives of people whose lives are limited by gluten by giving your time, skills and experience through one of our volunteering opportunities.
How to volunteer
Find a role. We have a range of different volunteering roles to get involved in, from working directly with other people with coeliac disease, supporting the Charity's campaigns or getting involved in research. We are committed to making volunteering as simple as possible with most roles based within your local community and some can even be done in the comfort of your own home.
Apply. Each role has a different application process. Once you have found a role, you may just need to complete a short online form or email us to express your interest. The Volunteering team will then email or call you, or may arrange to meet for a chat. It's a chance for you to find out more about the role and we can get to know you better to ensure we can match your skills and interests with our volunteer opportunities.
Receive support. All volunteers will be sent relevant resources and training for their role. The Coeliac UK Volunteering team are on hand to provide ongoing help and support during your time as a volunteer. Email us at volunteering@coeliac.org.uk.
Interested in volunteering? Check out our current opportunities below:
| Role | Description | Location |
| --- | --- | --- |
| Young Champions | For children aged 5 to 11 to raise awareness within their school and extracurricular activities. | Across the UK |
| Local Group Committee Member | To provide local support through our local group | Across the UK |
| Member2Member | Peer to peer support can make all the difference and we match people who have the same experiences. | Across the UK |
| Office volunteer | To support us in the office. | High Wycombe, Buckinghamshire |
| Volunteer photographer | To take quality photos at various Coeliac UK and/or local group events. | Across the UK |
Coeliac UK is an equal opportunities employer. We value a diverse workforce and welcome applications from all sections of the community. You don't need any previous experience of volunteering or even working with charities. Just a bit of time, a helpful attitude and the desire to get involved.