Your location: Home
Volunteer for us
Volunteer for us
Coeliac UK has over 1,000 volunteers who play a crucial and direct role in supporting members and furthering the aims of the Charity across the UK.
You can help to improve the lives of people with coeliac disease and dermatitis herpetiformis (DH) by giving your time, skills and experience through one of our volunteering opportunities.
How to volunteer
1. Find a role
We have a range of different volunteering roles to get involved in, from working directly with Members, supporting the Charity's campaigns or getting involved in research. We are committed to making our roles as volunteer friendly as possible with the majority of roles based within your local community and some can even be done in the comfort of your living room. Visit our current volunteer opportunities webpage to find a volunteering role that would suit you.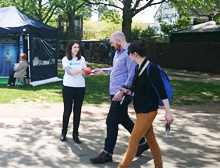 2. Apply
Each role has a different application process. Once you have found a role, you may just need to complete a short online form or email us to express your interest. The Volunteering team will then email or call you, or may arrange to meet for a chat. It's a chance for you to find out more about the role and the organisation and we can get to know you better to ensure we can match your skills and interests with our volunteer opportunities.
3. Receive support
All volunteers will be sent relevant resources and training for their role. The Coeliac UK Volunteering team are on hand to provide ongoing help and support during your time as a volunteer. Email us at volunteering@coeliac.org.uk
More Volunteer for us links
Print page
Add to My Scrapbook