Look out for our Crossed Grain symbol
Shopping for gluten free food shouldn't be a hassle, but we've heard too many times that people feel overwhelmed by long ingredients lists and uncertain about what is and isn't OK.
That's why we created our Crossed Grain Trademark certification scheme – so you can shop with confidence and find gluten free foods quickly and easily.
Going the extra mile for safety
We don't let just anyone use our Crossed Grain Trademark. Certified food products have been through extra checks including checking gluten analysis certificates and independent audits of how they are manufactured to ensure people with coeliac disease can be confident these products are suitable for a gluten free diet.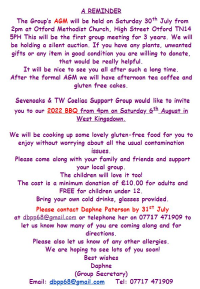 So when you see the Crossed Grain Trademark (left) on a food label, you know straight away that gluten free really does mean gluten free.
Check out our list of companies using the Crossed Grain Trademark, or go to our Food and Drink Information, which includes all our certified products.