Why I volunteer: Darcie, student volunteer
Darcie is the founder of University of Birmingham's Gluten Free Society.
Here, she explains how volunteering helped her connect with more young people with coeliac disease.
"I've been diagnosed with coeliac disease since I was just 16 months old, and have been a member of Coeliac UK ever since! I started University of Birmingham's Gluten Free Society in my final year of uni because transitioning to university is hard enough as it is, but for those recently diagnosed, it's even more challenging. I wanted to share my knowledge and experience, and provide a physical and virtual community where students with coeliac disease aren't alone.
"When I started the society, I worked alongside Coeliac UK's Volunteers Coordinator, Sian, who helped me think of ideas on how to engage more young people. She provided us with all kinds of freebies and information handouts to use at our events, and loads of people signed up to the society at our first event, the 'Give it a Go fair' in January, which wouldn't have been possible with Sian's support.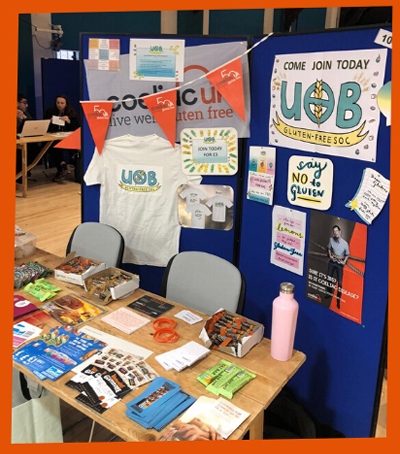 "I absolutely love volunteering with Coeliac UK because I'm passionate about raising awareness of coeliac disease, and showing people that it isn't a choice or a fad diet – it can really affect someone, even though it might seem 'invisible'. I know how daunting and challenging it can be, and I love being able to share my knowledge and experience to help people. It's so rewarding to receive messages on Facebook saying how much our society has helped.
"Coronavirus sadly cut my time running the society short, but to anyone thinking of volunteering for Coeliac UK, I'd say go for it. You can volunteer in any way you wish, and it's so rewarding to know that you're helping other people. Coeliac UK are amazing and the support and resources they provide are fantastic – I wish more young people knew about everything they do."
Are you a student with coeliac disease? If you'd like to know more about volunteering on behalf of Coeliac UK at your college or university, click on the button below.
Would you like to be contacted about new volunteering opportunities based on your interests?
Click here to browse our other volunteers' stories.