Osteoporosis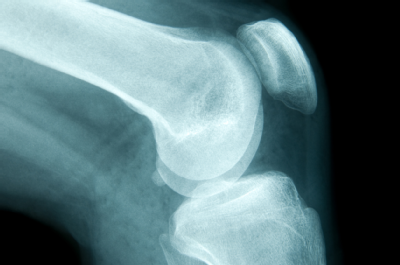 Osteoporosis is when your bones become thin and more likely to break. People with coeliac disease may have low bone mineral density (BMD), which is what is used to diagnose osteoporosis.
Studies1 have shown that low BMD can affect up to 75% of people when they are diagnosed with coeliac disease at any age. Even people with few symptoms of coeliac disease can have a significantly lower BMD than the general population.
Some people with coeliac disease may have a lower than normal BMD but not as low as osteoporosis, this is known as osteopenia.
How coeliac disease adds to the risk of osteoporosis
People tend to have lower BMD when they are first diagnosed with coeliac disease. This is because most people are diagnosed long after they reach their peak BMD in their mid twenties.
Coeliac disease is most often diagnosed in adults between the ages of 50 and 70. Research shows that the average time from onset of symptoms until diagnosis with coeliac disease is 13 years. During that time your body will not be able to absorb important vitamins and minerals, including the calcium needed for strong bones.
If you are diagnosed with coeliac disease in your childhood or teens, and follow a gluten free diet, your long term bone health is likely to be unaffected.
Your BMD will usually improve after starting a gluten free diet.
Women diagnosed with coeliac disease after the menopause find it more difficult to improve their BMD. This is because there is less of the hormone oestrogen, which speeds up the loss of bone strength.
The risk of osteoporosis increases as you get older. There are also other factors that can make you more at risk of osteoporosis, including:
late or delayed diagnosis of coeliac disease in adult life
lapses from the gluten free diet
being underweight
smoking.
Tests
If you feel you may be at risk from osteoporosis, you should speak to your GP.
Osteoporosis is diagnosed by a bone scan, known as a Dual Energy X-ray Absorptiometry (DEXA) scan, which measures your BMD. Bone mass is measured using something called a 'T-score'. This is an index that shows how much a person's BMD is different from the average BMD of a young adult.
Treatment
People with coeliac disease have an increased need for calcium compared to the general adult population. Following a healthy and balanced gluten free diet that is rich in calcium is important to keep bones healthy. Your treatment for osteoporosis will depend on your circumstances and the results of your DEXA scan.
It is recommended that adults with coeliac disease have at least 1,000 mg of calcium each day. The recommended intake of calcium for the general population is 700 mg per day.
As an example, 1 glass of semi skimmed milk (200ml) has approximately 240 mg of calcium

| Food per serving | Portion size | Calcium |
| --- | --- | --- |
| Skimmed milk | 200ml | 248mg |
| Semi skimmed milk | 200ml | 244mg |
| Calcium enriched milk alternative e.g. soya milk or almond milk* | 200ml | 240mg |
| Tinned sardines with bones | 1/2 can, drained (42g) | 230mg |
| Cheddar cheese | 30g | 220mg |
| Canned rice pudding* | 1/2 can (200g) | 176mg |
| Sesame seeds | 2 teaspoons | 170mg |
| Pot of Yoghurt* | 125g | 170mg |
| Fromage frais* | 2 x 47g pots | 140mg |
| Pot of soya yoghurt* | 100g | 120mg |
| Kale | 3 tablespoons (80g) | 120mg |
| Baked beans* | 1/2 tin | 105mg |
| Kidney beans | 120g | 85mg |
| Dried figs | 30g | 75mg |
| Orange | 1 | 70mg |
| Almonds | 30g | 70mg |
| Gluten-free bread* | 2 slices | 70mg |
| Broccoli | 3 tablespoons (80g) | 32mg |
| Dried apricots | 30g | 30mg |
*Please check your Food and Drink Information for suitable products.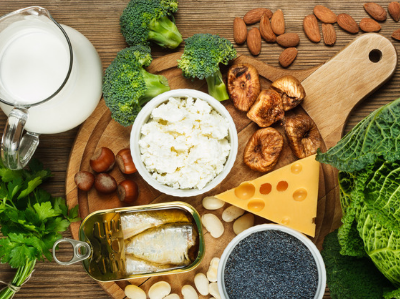 If you can't get all the calcium you need from your diet, you may need a calcium supplement. Speak to your doctor for advice.
To absorb enough calcium, your body also needs vitamin D. Your skin makes Vitamin D when you spend time in the sun, and the amount made depends on how strong the sunlight is. In the UK, people will have difficulty getting enough vitamin D in the winter months. Good food sources of vitamin D are oily fish, eggs, margarine and fortified breakfast cereals.
Public Health England and the Scottish Government provide advice on vitamin D intakes, based on recommendations from the Scientific Advisory Committee on Nutrition, saying:
Everyone in the general population aged 4 years and older, is recommended to have an intake of 10 micrograms of vitamin D per day. In the winter months they should consider taking a daily supplement containing 10 micrograms of vitamin D from October to February.
All babies from birth to one year of age should have an intake of between 8.5 to 10 micrograms per day. This should be as a daily supplement, unless the baby is having more than 500ml of formula a day, as formula milk is already fortified with vitamin D.
Children aged one to four years should have a supplement of 10 micrograms per day, all year round.
Pregnant and breastfeeding women should consider taking a daily supplement of 10 micrograms vitamin D daily.
Those in groups at risk of vitamin D deficiency, such as those who are housebound, older people, those with darker skin tones and those who cover their skin completely when outside, should consider taking a supplement of 10 micrograms of vitamin D each day, all year round.
If you have osteoporosis, there are also drug treatments that can be used to lower the risk of broken bones. Your doctor will be able to advise and monitor you.
Lactose intolerance
Some people with coeliac disease can also have lactose intolerance. Many foods which contain lactose are higher in calcium. People following a low lactose diet can have a reduced intake of calcium, which can impact on bone health.
Minimising the risk
You can help lessen the chances of developing osteoporosis by:
following a strict gluten free diet to make sure you absorb all the nutrients from the food you eat
taking regular weight bearing exercise such as walking, jogging, or gardening
stopping smoking
not drinking too much alcohol
eating a calcium rich, gluten free diet.
Children's bone health
As long as a child with coeliac disease follows a well balanced, gluten free diet, they should not be at risk of poor bone health. Absorption of calcium and other bone forming nutrients will improve as their gut heals, allowing them to develop normally.
Children and young adults who follow the gluten free diet should be able to reach their ideal level of bone strength, minimising the risk of developing osteoporosis in future life.
As with adults, it is also important that children eat a healthy, balanced diet. Children's nutritional requirements vary according to their age, so for specific advice about your child, talk to their dietitian.
There is no increased calcium requirement for children with coeliac disease compared to other children.
Because of the benefits of early diagnosis of coeliac disease on bone health, there is no need for children to be tested for osteoporosis, providing they are following a gluten free diet.
Follow up tests
At diagnosis and follow up, your healthcare professional will make any recommendations on DEXA scanning and calcium supplementation. You should speak with your local GP or consultant about your case.
Dr Philip Riches, Consultant Rheumatologist and Honorary Senior Lecturer at the University of Edinburgh, discusses osteoporosis in people with coeliac disease:
1Lucendo AJ et al. (2013) Bone mineral density in adult coeliac disease: an updated review. Rev Esp Enferm Dig 105:3 154-62