Eating out
Eating out when you're gluten free doesn't have to be difficult. With a little forward planning, confidence, and some help from Coeliac UK's expert services you can dine out in confidence wherever you are.
Gluten Free accreditation scheme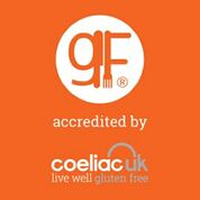 We are delighted to be celebrating 10 years since the launch of our Gluten Free accreditation scheme. We created our Gluten Free accreditation scheme in 2012 to make eating out safer and easier for people who need to live gluten free.
When you see our unique GF trademark, you know a venue is committed to gluten free food safety. Being part of the scheme and using the trademark means the venue and its staff have been through strict audits and extensive training to make sure they meet our gluten free standard so you can relax and eat out in confidence.
It is the only scheme available in the UK and we now have around 3,000 accredited venues in the UK, from nationwide chains to independent pubs and bistros, and even takeaways. We also accredit schools and hospitals to improve access to gluten free food for those who need it most.
Here is a list of all GF accredited venues
We will be continuing our work to increase the number of venues carrying the accreditation into 2023 and beyond as we recognise that the need and demand for safe eating environments for those following a gluten free diet continues to grow.
Venue Guide
Coeliac UK members get access to our Venue Guide both online and in the Coeliac UK Live Well Gluten Free app so you can search 3,000 accredited venues with gluten free food on the menu. The guide lists all GF accredited venues and thousands more recommended by our members. Best of all, you can filter by location and find places to eat wherever you are. Browse the Venue Guide now.

Excellent experience at The Real Food Café. The staff were fantastic and talked through how they ensure their food is safe for those with coeliac disease by using a dedicated cooking area, fryer, and member of staff. The fish and chips were delicious, what a fantastic business! I wish there were more places like this!
'
Top tips for a fuss free, gluten free dining experience
At all of our accredited venues you can be reassured that they have been trained to follow the correct procedures, and you won't see any disclaimer statements on menus. Staff can sometimes change and you may not always be able to find an accredited venue, so here are some tips from our food experts Food Information Officer, Heather and Head of Food Policy, Emily:
Find a venue using Coeliac UK's Live Well Gluten Free app or our Venue Guide.
Call Ahead. Ask to speak to a manager or even the chef if possible and make sure they understand cross contamination.
Clearly explain your dietary restrictions to the waiting staff when you arrive. Remember to double check if a separate fryer is used for gluten free options. We recommend you speak to a manager to be sure that your requirements are understood as a health necessity and not a dietary choice. 
Confirm your order before eating and if you're still in any doubt that the meal is safe, do not eat it.
Had a great gluten free experience when eating out? Why not leave a review on our Venue Guide or share it with us and our gluten free community on social media and be sure to tag the restaurant too.
The Gluten Free accreditation scheme – how you can get involved
Is there a local venue or food establishment in your area which you think could benefit from the Gluten Free accreditation scheme?
Help us with our mission to provide even more safe gluten free dining throughout the UK.
Download and print this handy leaflet and let your local venue know how they can benefit from getting accredited today.
Download and print our handy leaflet to pass on to a local venue