Eating out
We've been contacting our GF Accredited partners to ensure that you can still find gluten free food on the menu at GF Accredited venues. Please remember that our GF Accreditation scheme only covers delivery or takeaway when it is delivered directly by the accredited food business itself, not via a third party delivery company. We are actively working with our contacts to make sure that safe practices are in place, but please take care when using third party delivery services.
The key to eating out safely is to communicate with restaurant staff to explain your requirements.
Caterers must provide information on the allergens in the dishes they serve.
You can help us spread the word and let the venue know about Coeliac UK's training and accreditation scheme so we can help more people cater better for you.
Today, many eating establishments will have gluten free options on their menus and have kitchen and food handling procedures in place to cater for people who need a strict gluten free diet. So there's no reason why you can't eat out if you have coeliac disease but you can make the experience easier and safer by knowing what to look for.
The GF symbol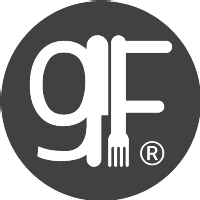 Coeliac UK has a unique symbol that can help you quickly identify venues which follow strict procedures in food handling and ingredient use to ensure a safe gluten free experience.
Look out for Coeliac UK's GF symbol on menus and in the windows of accredited venues.
The GF symbol on a menu tells you that the dish is gluten free according to the law and that the caterer meets all requirements of the Gluten free standard which covers all aspects of gluten free preparation and ensures training is in place.
Allergen information in restaurants
Caterers must, by law, be able to provide you with information on any allergens, including cereals containing gluten, in all the dishes they serve. This means if a recipe uses cereals containing gluten such as wheat, rye, barley or oats in the ingredients, they will have to tell you. This is as a result of legislation that was brought in at the end of 2014 to improve allergen information for consumers. Read more about the changes brought in with the Food Information Regulations.
Caterers can provide allergen information in writing or orally. Where the information is not provided written and upfront, there must be clear signposting to where the information can be found. Businesses choosing to provide information orally must ensure that there is a written notice, menu, ticket or label that is clearly visible, at the point that you choose your food, to indicate that allergen information is available from a member of staff.
To help a server take your order and correctly mark it as requiring special attention in the kitchen, simply tell them that you need a strict gluten free diet and cannot have gluten in any of your food. Do this at the earliest opportunity and make sure to ask questions about anything that isn't clear.
If you are in a restaurant or café that is selling food that is already packaged such as a sandwich or cake, make sure you read our page on food labels so that you know what to look for on the label.
'
Call ahead to discover the gluten free options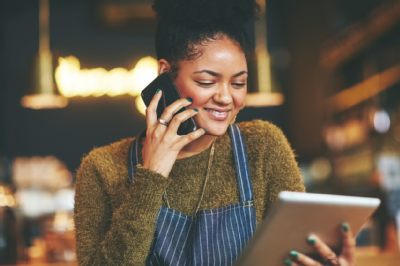 Although caterers have to provide allergen information for all dishes they serve, they don't have to offer a gluten free meal so it is best to call ahead or check their website to see if they offer gluten free options.
If you do speak to restaurant staff, explain why you need to ensure you don't have food that contains gluten. By law, they need to be able to tell you about dishes that contain any allergens, including wheat, rye, barley and oats.
Most responsible establishments will have their staff trained in allergen and gluten dietary requirements but if you discover that they are unaware of what gluten free means it's best to highlight what foods are naturally gluten free and suitable to eat.
Provide specific examples of what is not safe, for example:
wheat flour in sauces
breadcrumbs
croutons
some stock cubes/powders
oil used to fry foods that contain gluten.
Be especially careful about sauces. If in doubt, it's probably best to ask them to not serve it. Also beware of some types of chips/fries which are dusted with a wheat ingredient to make them crispy.
If an ingredient is bought in, such as stock cubes, ask to check the ingredients list as they are covered by the same EU wide labelling laws as foods in the supermarket.
If there is nothing suitable on the menu, ask if the chef could cook something else for you. Many restaurant chefs are happy to do this once they know the reason for the request.
Communicate with the waiting staff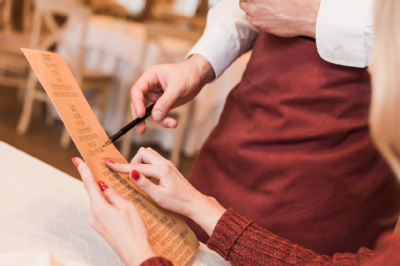 Talk to the waiting staff once you arrive at the restaurant and ask about their gluten free options and what dishes might be suitable.
Restaurants have to tell you if a dish contains a gluten containing cereal. Be careful to check soups, dishes with sauces or gravies, stock cubes, and foods like sausages and chips. Some may be have a coating that contains gluten or they may be fried in the same oil as products that contain gluten, like onion rings.
If in doubt. ASK!
Avoiding cross contamination
Look at the menu to see if breaded items such as chicken or fish are offered. These may be sautéed in the same pans as non breaded dishes or fried in the same fryer. Ask your waiter or the chef if they are able to use separate pans to avoid cross contamination.
Menu choices
Check out our advice about different world cuisines and the options they offer to people with coeliac disease. We also have advice about takeaway options.
Aside from choosing suitable dishes, the main thing to do is to ask enough questions so that you feel happy that the venue and staff understand your dietary requirements.
If appropriate, tell them about our training and accreditation
Some establishments you visit might be interested in helping more people on a gluten free diet dine well.
Our training and accreditation helps caterers understand your needs better. With our expertise we can help chefs, waiters, managers and anyone involved in food to work within the law and deliver gluten free food. Tell them about us and how we can help.
How we can help you enjoy dining out
We want to make sure there is more choice for people who need a gluten free diet and our members enjoy a range of benefits including, local groups, a venue guide, app and helpline.
Check out our Venue Guide for restaurants and other venues that can cater for you. You can use this online or on our Gluten free on the Move app.
Contact your Local Group. They may be able to recommend good places to eat out where other members have had positive experiences.
Raising awareness among the catering industry is an ongoing and key aim for Coeliac UK. We have an area for Food businesses, so you can direct people there.