Coeliac UK raises awareness at RCGP Annual Conference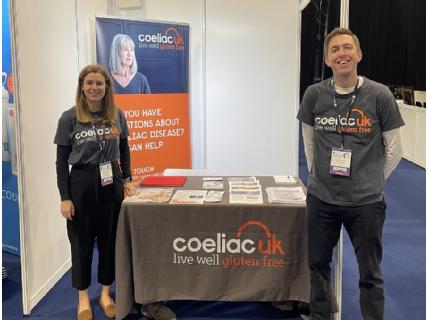 31 October 2023
In October, our Evidence and Policy team attended the Royal College of General Practitioners (RCGP) Annual Conference in Glasgow. The conference brings together GPs from across the UK to share the latest developments in primary care and connect with other healthcare professionals and health organisations.
This is a fantastic opportunity for us to support those involved in the diagnosis and management of coeliac disease and other gluten related conditions. For the estimated half a million people in the UK who are undiagnosed, a simple blood test requested by a GP is often the first step towards the road of recovery.
We had many excellent conversations with GPs and spoke of the importance of testing people regularly for coeliac disease and being aware of the wide range of signs and symptoms. These include unexplained iron deficiency anaemia and prolonged fatigue.
We shared our popular one page summary of the diagnosis and management guidelines and reminded them how important it is to ensure patients are eating enough gluten before testing them for coeliac disease.
GPs were also encouraged to sign up to our GP newsletter to stay updated on the latest developments in coeliac disease and the gluten free diet. We were delighted to hear they are sharing the summary with their colleagues and adding it to notice boards in surgeries.
Gluten Free Food on Prescription
Many of the clinicians we spoke to were interested to know how they can better support people with coeliac disease, including whether gluten free products were available for patients on prescription in their area.
In England, gluten free prescriptions are limited to bread and flour mixes and only available in some areas. Gluten free staple products are available to anyone with a diagnosis of coeliac disease in the rest of the UK. We were heartened to encounter support for gluten prescribing from a wide range of GPs and will engage with them further as part of our Cost of Living campaign.
It was encouraging to hear that many GPs recognised that annual reviews are an area where more work is needed and we provided our annual review checklist, which ensures they cover all the key points when carrying out a patient's annual review.
Future Advocacy
Our team have many exciting leads to follow up with other exhibitors including opportunities to develop educational content for healthcare professionals which will greatly benefit our community
While up in Scotland, we met with dietitians and gastroenterologists to better understand the challenges faced. We were provided with an update on the Scottish clinical pathway for people with coeliac disease which covers diagnosis, management and annual reviews and had useful discussions as to its implementation across Scotland.
If you are an HCP visit our website for further resources and information here: www.coeliac.org.uk/healthcare-professionals/
If you have coeliac disease learn more about our advocacy work here: www.coeliac.org.uk/get-involved/campaign-with-us/