Remembering Professor Michael Marsh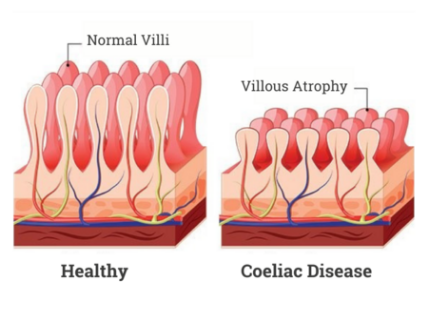 11 October 2021
Professor Michael N Marsh sadly passed away on 13 July 2021 and an obituary has recently been published in the journal GUT.
In 1992, Prof Marsh, a medical doctor and researcher, described the stages of damage to the small intestine which is characteristic of coeliac disease. This ground breaking work resulted in a classification system that was adopted internationally, and which is still in use today.
In the majority of cases, an endoscopy with a biopsy is needed for the diagnosis of coeliac disease. After biopsies are taken they are examined by a pathologist and categorised according to the Marsh classification:
Marsh 0: the lining of the intestine is normal
Marsh 1: increased number of lymphocytes (white blood cells that are involved in the body's immune system response in coeliac disease) but there are normal villi (finger like projections which are responsible for absorbing nutrients)
Marsh 2: increased number of lymphocytes, the depressions in the lining of the intestine are deeper than normal but normal villi length
Marsh 3: the villi are becoming flattened
Marsh 4: the villi are completely flattened
The system can also be used to monitor someone's response to the gluten free diet, to see if there are any changes to the intestine after they've switched to a gluten free diet.
Prof Marsh dedicated his career to coeliac disease and gluten related conditions, and played a vital role in standardising the way healthcare professionals describe and report the changes of the lining of the intestine. His work continues to make a difference in the diagnosis of coeliac disease, and his legacy will be lasting.
Thank you for everything you did, Professor Michael Marsh.