See you at the Allergy & Free From Show!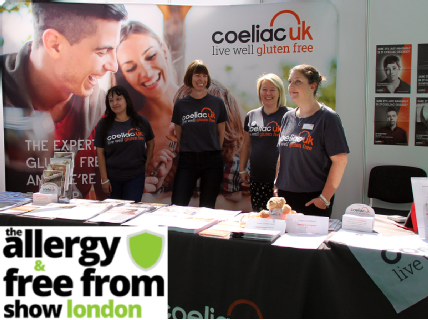 28 June 2022
We're excited to be at the Allergy & Free From Show London and hope to see you there – ExCel London, Friday 1 - Sunday 3 July. There's lots going on and make sure you visit our stand A112.
We will be holding a talk 'Living gluten free in the real world' at 1.15pm on Friday 1 in the AFF Chat Theatre. Jane Devonshire, Coeliac UK Ambassador and MasterChef Champion, and Lorna Gardner, one of our Coeliac UK Dietitians, will share their expertise and practical tips on living well gluten free wherever you are and whatever the situation.
New for 2022 is the Book Signing Theatre. Here you can meet the best-selling authors of the Free From World and get a signed copy of their books. Bring your own, or copies of their books will be available to buy from the Coeliac UK bookshop at the - Book Signing Theatre, with profits going to support our work.
Friday 1 July
1pm – Healthy Living James
3pm – Becky Excell
Saturday 2 July
1pm – Jane Devonshire
3pm – Becky Excell
Sunday 3 July
11am – Jane Devonshire
1pm – Megan McKenna
3pm – Becky Excell
Annette Woolman, Director of Membership, Services and Volunteering said
"We're excited to be back at the show in London. It's really important to us to be out and about talking to our community and raising awareness of coeliac disease. There's so much going on at the show and we look forward to seeing you there."
Get an insight into the behind the scenes details and planning that go into events like this. Read our interview with two of the F2F team, Ben and Tom, responsible for organising the show.