How volunteering could boost your career
Follow Fundraising Coordinator, Max's volunteer journey to find out how volunteering could help you achieve your career goals.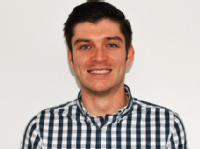 "I was introduced to coeliac disease when I started university and became close friends with someone who has it. Living with him for three years as a student, I quickly developed an appreciation for the challenges he faced because of his gluten free diet.
"The usual student lifestyle of regularly eating out in groups without a care, sharing small kitchen spaces where cross contamination was nearly unavoidable and generally being untidy and disorganised like most students was a real test for him and I couldn't help but empathise.
"Fresh from graduating university and keen to further my experience in the charity and events sector, volunteering at Coeliac UK seemed like a great place for me to gain experience and give back to a community that I felt connected to.
"During my time volunteering at the head office, I was able to get involved in a number of opportunities with the volunteering and fundraising teams, such as joining the London Marathon cheer team, helping to the run the city treasure hunt events and gaining experience of the day to day running of the office.
"This, combined with the chance to network with members of the charity, was vital to my career development. Since volunteering at Coeliac UK, I have been working full time in the charity sector for the last four years.
"Around 18 months ago I was thrilled to be offered the chance to join the Fundraising team as a full time member of staff. It was an opportunity I couldn't pass up, and knowing so many members of the charity from my time as a volunteer, I was able to settle into the team with ease.
"Aside from the fantastic experience and opportunities that arose from my time as a volunteer, it was above all else something that I thoroughly enjoyed taking part in. One of my highlights was when I took part in the Ride London 100 cycle ride with my friend from university. Being able to share that experience with him and knowing the two of us were representing the charity, raising awareness and helping fundraise was an incredible experience.
"Volunteering at Coeliac UK has been a truly rewarding experience for me and if I were to pass on any words of advice, I'd say sign up for everything you can, don't be shy about speaking to our staff, as they're all super friendly, and enjoy yourself – volunteering is meant to be fun!"
Visit our virtual Volunteers' Open Week
Discover our volunteer roles and hear from volunteers across the organisation, at our virtual Volunteers' Open Week.
Register your interest
Sign up to hear more about our volunteering opportunities with no obligation. One of our team members will be in touch to help you find what's right for you.