Your location: Home
The Gluten Freevolution
The Gluten Freevolution
Join the Gluten Freevolution today!
The number of people on a gluten free diet is on the rise. And so is the demand for gluten free food when going out for a meal or grabbing something quick and easy when on the move. We want to make it easy for you to help the gluten free community by catering better for them, whilst also ensuring that you have all the information you need to create great and safe gluten free food.
Why are we campaigning on this?
For many people, maintaining a strict gluten free diet is essential to their health. Over 90% of people on a gluten free diet ate out in the last month, yet issues with responsiveness of staff and food safety persist, with over 50% saying that the experience can be frustrating and 25% suspecting that they had been "glutened". Understanding why people avoid gluten and what can happen if they accidentally eat gluten is important in grounding your understanding of gluten free food.
With our help, serving great gluten free food is safe and easy with our free guidance.
Coeliac UK is starting a Gluten Freevolution to change things for the better for gluten free, and we want you to join us.
Cyril our duck, with the help of our fabulous patron, Caroline Quentin, is leading a Gluten Freevolution
Play your part, and join the glorious Gluten Freevolution:
Download our FREE guidance for caterers
Become a campaign partner by making a gluten free change
Book training for all of your staff
Learn more about Coeliac UK GF Accreditation
Get to know the gluten free basics with Cyril and his fellow quacktivists
Get inspired and create great gluten free that keep will keep your customers coming back for more
Share our Facebook posts and Cyril's calls to action on your own social media channels.
If you're on a gluten free diet and want to lend your support to the Gluten Freevolution campaign, please see our pages on how to get involved.
Going gluten free is good for business
The gluten free market started from a low base but is growing rapidly, with the number of gluten free menu listings doubling in the last two years so now is the time to get on board. We've calculated that by not catering for those on a gluten free diet, the UK hospitality industry is missing out on around £100 million each year.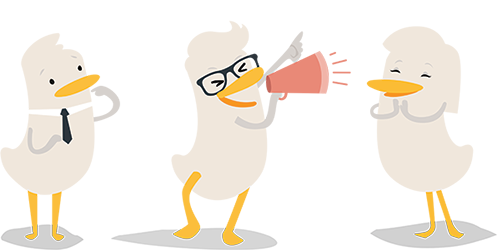 And of course, birds of a feather flock together. Remember that it is normally the person who is on a gluten free diet who decides where their friends and family will be going to eat so you secure the whole table by catering for just one.
The free from market was valued at £470 million in 2015 and is forecast to grow to £673 million by 2020, representing annual double digits growth.
You too can at build a new loyal gluten free customer base by providing a range of gluten free menu options, on a clearly labelled menu, at reasonable prices.
And to make sure your customers trust your offering, your staff should be knowledgeable and responsive to questions about your gluten free offer, particularly on how cross contamination is controlled in your kitchen. See our video for hints and tips to make sure you're making gluten free food.
Check out the sections on gaps in the gluten free market and catering gluten free for schools, hospitals and care homes.
Going gluten free is easier than you might think
A recent survey found that around 6% of customers mention gluten free or free from as a factor affecting choice of where or what to eat. The top three things that people on a gluten free diet are looking for are clearly labelled gluten free options, a good experience and a safety assurance scheme. Parents of children with coeliac disease are keen to see gluten free children's menus.
You might have been put off introducing gluten free dishes because you're worried about potential food safety risks or pitfalls, but it is not complicated, and there's lots of help available. A good place to start is our new guidance for caterers and Coeliac UK training.
Book training for all your staff
Managing the food safety risks for gluten free can be easily controlled with minimal costs, once you know how. As part of the Gluten Freevolution, we've developed a range of help and advice to get you ready to go gluten free, including our top tips for catering gluten free.
Cyril's top ten tips for catering gluten free
If you've been producing gluten free dishes for a while, and would like to take the next step by having your venue accredited, please get in touch.
Learn more about Coeliac UK's GF Accreditation Scheme
Become a Gluten Freevolution campaign partner
Submit your venue to the Coeliac UK Venue Guide
And why is it all worth it?
Gaining new and loyal customers
People on a gluten free diet often rely on the advice of people they trust when searching for somewhere or something to eat. We asked them what businesses could do to gain their loyal support. Here's what they said:
Provide menus with clearly labelled gluten free options
Provide a variety of gluten free menu options
Ensure staff are knowledgeable and responsive to questions from customers about gluten free food options and kitchen controls
Join a gluten free safety assurance scheme, such as Coeliac UK's GF Accreditation
Getting these things right can make all the difference, and don't forget to also download our new guidance for caterers on getting gluten free right.
And once you've got the hang of it, over 85% of people on a gluten free diet say that they gluten free food on offer has really improved over the last three years, but we can can always do better. Visit our home of gluten free recipes for inspiration.
Showing the demand for gluten free
We have produced campaign materials, leaflet and videos to support our Gluten Freevolution to mobilise our supporters. If one of your customers gives you one of our leaflets or postcards, you know they want to eat with you. So getting on board with the Gluten Freevolution means you could secure their custom.
Go to our get involved pages to understand more.
Do you have any further questions or comments?
Please email campaigns@coeliac.org.uk.
More The Gluten Freevolution links
Print page
Add to My Scrapbook