Your location: Home
The shape of our work
The shape of our work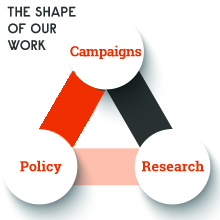 Campaigns, policy and research are interlinked. Our campaigning and policy work is underpinned by research. This gives us the evidence base we need to form a policy position and establish the case for our campaigns.
Research
Our research involves the investigation and study of materials and sources to develop our understanding. Some research gives results quickly while for others, it is a process of many stages and can take many years.
The research we fund supports our goals and without the personal involvement of our committed Members many projects would not have been possible.
Policy
Good quality research gives us robust evidence to support our decision making when we develop policy. When we work to create a change, whether that be in a business practice, a law or the knowledge of the general public, we need to know exactly what we are asking for and we must have the evidence to support this ask.
Campaigns
All of our campaigning work is evidence based. We use a range of evidence to inform our policy positions and campaigns, including membership surveys, peer-reviewed research, market analysis and our own expertise. Campaigns can take many forms, and the approach taken will depend on each campaign's aim, the strategy adopted and the tactics deployed. Many of our campaigns include direct engagement from our Members and supporters signed up to our Campaign Network.
Print page
Add to My Scrapbook