Your location: Home
Importance of medical diagnosis
Importance of medical diagnosis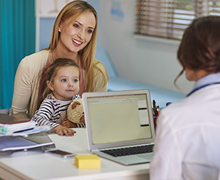 Getting your doctor to confirm a diagnosis of coeliac disease is important for many reasons, including:
To understand the gluten free diet as the only treatment. Following a

lifelong

gluten free diet

will be a big change to your

eating

and

shopping

habits. You may need help to choose

safe foods

and keep a balanced diet.

If your child has coeliac disease

, monitoring their growth and development is very important.

To be able to get gluten free foods on prescription. People who are medically diagnosed with coeliac disease are able to receive prescriptions for gluten free substitute products which can help you maintain the diet.
To make sure family members are aware of the condition as it can run in families. If a first degree relative has coeliac disease then prevalence increases to 1 in 10. Awareness of a medical diagnosis of coeliac disease within a family can help identify the disease if a relative also has or develops symptoms. This is known as screening.
Professor David Sanders (Consultant Gastroenterologist at the Royal Hallamshire Hospital, Sheffield and Chair of Coeliac UK Health Advisory Council) explains why testing for coeliac disease is so important:
Print page
Add to My Scrapbook