Your location: Home
Hospital visits
Hospital visits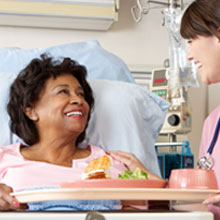 If you have coeliac disease and need to go into hospital for whatever reason, it is important that you communicate your need for a gluten-free diet with hospital staff. Hospital catering is variable – some are excellent whilst others may find it more difficult to cater for you.
The good news is that new standards mean that from 2015 there are mandatory standards covering hospital food in England and Scotland, and there are standards in place in Wales and Northern Ireland too.
Unplanned stays in hospital
Knowledge of the diet may vary amongst staff and unless they are a gastroenterologist or dietitian, they may not have a very good understanding of coeliac disease.
When choosing from the menu in hospital, check with the ward housekeeper who should be able to show you which options can be included in your gluten-free diet.
Some hospitals highlight on the menu which meals are gluten-free, and some even have a separate gluten-free menu. Ask to see a dietitian when you are first admitted to hospital, as it is often the dietitian who will order a meal for you.
Be aware that well meaning staff may get it wrong as they may not fully understand the gluten-free diet. For example, they may add croutons which contain gluten to soup that would otherwise be ok for you to eat.
If you are unsure if your meal is ok for you to eat, check again with the ward housekeeper or a member of nursing staff.
Planned stays in hospital
If your stay in hospital is planned, speak to the ward sister or hospital dietitian beforehand so they know that you need a gluten-free diet.
Don't worry that this is 'making a fuss', the staff will be glad of the warning so they can be prepared. This should also give the catering team time to order in specialist gluten-free foods like bread and crackers if they don't keep them all the time.
To make sure that your stay goes smoothly, here are a few questions to ask beforehand:
do I need to see the hospital dietitian to make sure I can get meals and snacks that I can eat?
does the hospital have a gluten-free menu?
are gluten-free snacks available?
Take your Food and Drink Directory with you – it may come in handy if you or the hospital staff need to check certain foods.
Take your Coeliac UK Membership card with you – it has our Helpline number on it so if you or staff are unsure about a food, you can call us.
If something goes wrong
If you're not happy with the food that is provided during your hospital stay, we would recommend speaking to the ward staff about this while you are there. You can also ask to speak to the hospital dietitian who may be able to talk to the catering staff on your behalf.
If you feel more comfortable speaking to someone after your stay, you can contact the Patient Advice and Liaison Service (PALS) at the hospital. Each hospital has a PALS team and they are there to listen to patients, their relatives, carers and friends about any positive or negative experiences they have had during their hospital stay. They will try to answer any questions and resolve any concerns as quickly as possible.
You could also contact the Nutrition and Dietetic team at the hospital directly and let them know your concerns. They can then pass your feedback on to the catering department on your behalf.
Print page
Add to My Scrapbook