Questions related to: Which foods are listed in Section 2?
Found 9
What is the Crossed Grain symbol?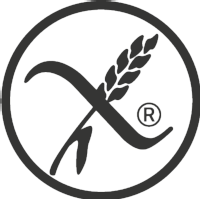 The Crossed Grain symbol is used under licence by companies and organisations on food and drink products which meet our criteria. The symbol is a quick and easy way to identify safe food and drink. We highlight products using the Crossed Grain symbol throughout our Food and Drink Guide.
Do I still need to update my Food and Drink Guide?
It is important to check for updates as products do change and many new products are added throughout the year.
Product information on our digital versions are updated in real time however we also provide monthly updates to the Food and Drink Guide and these can be found:
Can I drink beer?
Beer, lagers, stouts and ales contain varying amounts of gluten and are not suitable if you have coeliac disease. Specially manufactured gluten-free beers are available and are listed in your Food and Drink Guide in the Section 1 Drinks chapter.
Branston Pickle states it contains barley malt vinegar in the ingredients list, why is it listed in the Food and Drink Information Service?
Branston Pickle contains barley malt vinegar, if it is used in a food product the manufacturer must list the word 'barley' in the ingredients list in line with European Union wide allergen labelling law.
Barley malt vinegar is made using a fermentation process. This means that the amount of barley, and therefore gluten, in the end product is extremely small and is well below a level which is safe for people with coeliac disease.
Why aren't naturally gluten free foods listed, such as vegetables, bacon and eggs? Can I eat these foods?
Some foods are naturally gluten free. Foods like meat, fish, eggs, fruit and vegetables are all naturally gluten free and so listing these in the Guide would mean the Guide would be unnecessarily large. We list foods on page 6 of the Guide which are naturally gluten free and produce a gluten free checklist which you may find useful. You can download this from the Gluten free diet and lifestyle section of the website. www.coeliac.org.uk/gluten-free-checklist.
Can I still use Coeliac UK's Gluten free on the Move app to find suitable products for my diet?
Gluten Free on the Move has been through some changes and the new improved app is now your go-to venue search tool to find places to eat when out and about.
To check suitability on over 100,000 food and drink products, download and use our award winning app; Gluten Free Food Checker, where you can scan the barcode or search by product name.
You can also login to our website and search our food information service. Our website is mobile optimised, so you can access this, our Home of Gluten Free recipe database and our Venue Guide from your mobile or tablet device whenever you need it.
What is barley malt extract?
Malt extract and malt flavourings are commonly made from barley, although they can be produced from other grains. Barley malt extract is a flavouring often added in small amounts to breakfast cereals and chocolates.
Foods that contain barley malt extract in smaller amounts can be eaten by people with coeliac disease. However, any foods that contain barley malt extract will be labelled as containing barley and you will not be able to tell from the ingredients list how much has been used. Products containing barley malt extract that are labelled gluten free are suitable for people with coeliac disease.
The own brand breakfast cereals listed on our Food and Drink Information are suitable for people with coeliac disease. They contain a very small amount of barley malt extract and are tested to make sure they contain 20 parts per million or less of gluten which is a safe level of gluten for people with coeliac disease. However, because they contain barley malt extract you will see this listed and emphasised in the ingredients list.
If you see barley malt extract in a product that is not listed in the Food and Drink Guide or on our Food and Drink Information service then contact our Helpline or the manufacturer for more information.
Why is dried yeast now listed in the Food and Drink Information Service?
Fresh yeast is naturally gluten free. We are now aware of some brands of dried yeasts that now contain wheat starch in the ingredients so they are not gluten free. We therefore now list dried yeasts in the Food & Drink Information Service that do not contain gluten.
Why do you not provide product information for some brands and manufacturers?
We now provide product information and it's suitability on over 100,000 gluten free and mainstream products by contacting over 200 manufacturers and sourcing product information from a third party, Brandbank. If you can't find a particular brand within our services, this may be because they have not provided us with information or it might be because the product contains gluten.
If you are unsure whether you can eat particular products you can always check the label. For more information on reading labels why not check out our food labelling video, produced in association with the Food Standard Agency.
If you find that the product is suitable which isn't listed in our Food and Drink Guide, then do let us know about it and we can work towards listing the product on our website and in our Gluten Free Food Checker App.