Questions related to: What is the Guides section for?
Found 7
How often are products updated?
Product listings are updated weekly.
Can anyone use the Gluten Free Food Checker app?
Gluten Free Food Checker is only available to Members of Coeliac UK as you need your Coeliac UK login details to access the app's features.
My login details are not working?
Your login details need to be the same email address and password you use to log in to our website and your Membership for Coeliac UK needs to be up to date.
If you're not sure what your login details are or the status of your Membership follow this forgotten password link - you will then be able to reset your password and check your Membership details via your online account on our website.
Do I need WiFi?
You will need WiFi, 3G or 4G connectivity to use the app.
Where do I find the barcode scanner?
The barcode scanner icon can be found on the homepage next to 'Scan to check food':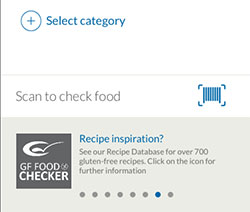 It can also be found in the top right corner, next to the magnifying glass, on any other page within the app.
Can I download the app onto my iPad, Kindle Fire and other tablets?
The app can be downloaded on to an iPad but the barcode scanner may not work.
How much does the Gluten Free Food Checker app cost?
You do not need to pay for the app as it is included within your existing Membership fee.