Your location: Home
Teenagers and young adults
Teenagers and young adults
Growing up with coeliac disease, especially in your teenage years and early 20s, can have its challenges, especially as you eat out more with friends and need to safe guard your gluten-free diet.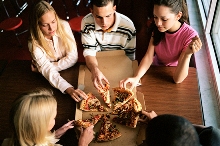 Don't be embarrassed about having coeliac disease. It is part of you and your friends will understand.
At home
It is important that everyone you share your living space with understands the importance of you sticking to your diet, whether it be friends or family. Although you won't have a life threatening reaction if you eat gluten, it will damage the lining of your gut and cause you to become unwell.
You can take the following steps to avoid cross contamination, especially in shared kitchens:
use toaster bags or foil on a clean grill
use separate butter, spread, pickle and jam pots
have your own bread board
if you're sharing a fridge or food cupboard, clearly label your food items to remind others not to use them.
When you are in shared accommodation or eating out with friends, it can help if everyone understands the importance of you sticking to your gluten-free diet. You can refer them to our website if they want to know more. Download our 'Moving on' leaflet which gives information to help you manage your diet.
Out and about
If you are going out with friends you should plan ahead and make sure that you will be able to eat something on the menu. Try one of our accredited restaurants so you know your needs will be catered for.
Or, if you're going somewhere else, make your requirements known before hand, speak to the head chef and be aware that you may have to explain in some detail about what you can and can't eat and why it's important to avoid any contamination with foods that contain gluten. When you get there, check again that your requests have been passed on to the relevant staff. A high number of restaurants now have an allergy menu that enables you to choose suitable dishes so ask if the restaurant has one of these.
Don't always expect to be able to eat from the menu. If there is nothing suitable, ask if the chef can provide something else. Many chefs are happy to do this once they know the reason for the request .
Festivals
Festivals can be tricky to eat at because a lot of the food is fast food and on the go which is usually gluten-containing like pizzas, burgers and noodles. To make sure you aren't stuck for food, bring your own food like fruit, gluten-free pretzels and gluten-free biscuit packs. These will be light to carry in your rucksack and will also make suitable snacks throughout the day.
If you want a warm meal then a lot of stalls do jacket potatoes which will be naturally gluten-free and filling. It is also a good idea to speak to chilli or chicken stalls and ask about their ingredients. Check with the servers about ingredients, cross contamination and highlight what you need for your diet. For something like chips, you should ask the chef if you can read the ingredients on the packaging and then check they're being cooked in a separate fryer to any fish or other food sold at the stall. Often the chefs and servers are very friendly will have a sign saying 'if you need any allergy advice please feel free to ask', then you know they are confident with the information they are providing and are willing to help you.
Alcohol - aged 18 years+
Avoid any alcohol containing gluten or you will risk damaging your gut. Cider, wine, sherry, spirits, port and liqueurs are all suitable for people with coeliac disease and there are some speciality gluten-free beers, lagers, stouts and ales available.
Even when a cereal that contains gluten is used as an ingredient, all spirits are distilled during the manufacturing process and this removes any trace of gluten. Therefore, all spirit drinks (including malt whisky which is made from barley) are suitable for people with coeliac disease.
Don't let coeliac disease hold you back from enjoying yourself with friends by not going to parties because you are worried about what to eat. Always bring your own snacks with you so you're not caught out.
Support from your doctor
If you are moving away from home, register with a new GP as soon as possible to ensure you get food on prescription and your annual health check.
Support groups
Coeliac UK has a Facebook page, Local Groups and a Gluten-free Under Thirties (GUTs) Group where you can share experiences with other people with coeliac disease.
Coeliac Youth of Europe is the youth group of the Association of European Coeliac Societies (AOECS). It runs summer camps for people to get together to have fun in a gluten-free environment.
You can find out more about other people's experiences in our case studies section.
Print page
Add to My Scrapbook