Your location: Home
Back to school support and resources
Back to school support and resources
As a parent of a child with coeliac disease, we understand just how stressful it can be sending your child to school particularly if they are starting school for the first time or have been recently diagnosed.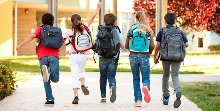 Whilst some schools are brilliantly supportive, this is not always the case, and we hear from many parents who worry about whether their child is receiving the appropriate support from teachers and classmates.
To help you, we have produced a range of resources and guidance to help when your child goes to school. Through using these, we hope you can feel confident that your little one is happily living gluten free and enjoying their school experience just as much as any other child.
Provide the school with an information pack and letter
We have produced 'Coeliac disease in school' packs which provides information to allow your child's condition to be managed effectively in school. The pack will vary on where you live in the UK and includes information for you as a parent or carer and for you to give the school. There are different versions of the document for parents and teachers, so make sure you download the right one, relevant to where you live. Download your information pack.
You can also download our letter template to send to your child's school to notify their teachers that they have coeliac disease - it contains the information they need to help them understand the condition, cater for their needs and signpost to our information packs.
Gluten Freevolution at school
We want to make sure children with coeliac disease are included in all school activities including school lunch. As part of our new Gluten Freevolution campaign we've produced new technical guidance for school caterers, in collaboration with the Food Standards Agency. If you'd like us to email or post a copy of this guidance directly to your child's school, please just complete this online form with the school's details. We will also send the school copies of any government guidance and a school pack with information for the school and teacher (as above).
Support your child to become a Young Champion
Our Young Champions pack aims to give children aged 5 to 11 the confidence to talk about their coeliac disease at school and extracurricular activities. Through fun activities and information, we hope that your child's peers and their parents, teachers and leaders will gain a better understanding of the condition and become more aware of what life is like on a gluten free diet.
Read about our inspiring Young Champions and order a pack.
Raise awareness with schools and parents
Help us to improve diagnosis rates by raising awareness of coeliac disease. You can do this by providing the school nurse or administrator with an 'is it coeliac disease?' campaign poster and set of leaflets. You could also give these out to any parents who would like more information about the condition. Order your leaflets by emailing campaigns@coeliac.org.uk (there is also a poster and some leaflets included in the Young Champions pack).
Case study
Meet Jacqui, who successfully campaigned for an Allergy & Anaphylaxis Policy to be put in place in all schools on the Isle of Man.
Jacqui lives in the Isle of Man where they have their own parliament and laws. She has a 12 year old child with coeliac disease.
In September 2015 Jacqui started to lobby the Isle of Man Education Minister regarding supporting children with coeliac disease and food allergies by introducing a policy. This has led to an Allergy & Anaphylaxis Policy put in place in all schools on the island, which also covers coeliac disease.
Jacqui has met with the Education Department on a number of occasions and has been actively involved in the drafting the policy. The policy was approved by the Department after consultation with head teachers and has now been issued.
What an incredible achievement!
Print page
Add to My Scrapbook