Your location: Home
Children
Children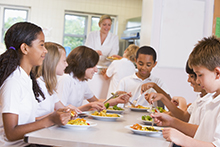 If you have a child who has been diagnosed with coeliac disease, there are many things you can do to make sure they don't suffer symptoms of the disease. And there is a lot of support out there to help you and your child.
Before diagnosis, children often feel very unwell and may have already made the link between food and feeling poorly. Once they are diagnosed and begin to follow a gluten-free diet their symptoms will improve and they should bounce back very quickly.
Explaining coeliac disease to children
Children of all ages need to understand their diagnosis.
It's important to explain to your child what coeliac disease is, what gluten does to their body and what foods they should avoid.
It's also important to explain coeliac disease to the whole family, including siblings, so they understand why their brother or sister may have to eat different foods.
By joining Coeliac UK you can download a copy of our special children's guide, The Belly Bunch. The booklet, designed for children up to seven years, uses easy to understand language to explain about coeliac disease, why it makes them feel poorly, what they can eat and how much better they feel eating food without gluten and uses bright, colourful pictures. It can also be used as an educational tool in schools and nurseries.
Top tips if you have a child with coeliac disease
Get your child involved in identifying foods that don't contain gluten to help them understand their diet.
Go through your food cupboards and mark products that your child can eat with a smiley face sticker and products that are not gluten-free mark with a warning sticker. This will help the whole family and visitors to quickly identify products that are suitable for your child.
When you are cooking for the family, many everyday dishes can be made gluten-free by substituting some ingredients or using gluten-free versions of ingredients.
It's essential to take sensible steps to prevent contamination with gluten-containing foods in the kitchen.
Check out our selection of children's recipes that you can try.
Starting school
When your child starts school, or if you are changing schools, arrange a meeting with the appropriate members of staff to tell them about your child's needs.
We have a Welcome Pack, which will answer most of your queries and includes information on liaising with your school team to best accommodate your child's needs. The Welcome Pack is free of charge to Members. See our advice on gluten-free school meals for more information on provision of school meals and speaking to your child's school.
Children's parties
There's no reason why your child can't enjoy parties just like other children.
Tips for holding a children's party
Make gluten-free butterfly cakes and get all the children to decorate their own cake, using different coloured icing, and gluten-free cake decorations. They can then eat this as their dessert or take it home in their party bag.
Make a gluten-free birthday cake.
Buy coloured food boxes (available from party supply shops) and get the children to decorate them with stickers and a name label. Then you can put a selection of food into each box.
Make or buy gluten-free chicken nuggets or mini hot dog sausages (check out our recipe or find supermarket versions in the @Food and Drink Directory@).
Use gluten-free bread for sandwiches and make sure any crisps or snacks do not contain gluten.
Fizzy drinks, fruit juices and most fruit cordials do not contain gluten, but check any cloudy drinks as these may contain barley.
Tips for attending a children's party
Whilst it's important to give your child the independence to manage their own diet, there are circumstances, like at parties, where it's a good idea to discuss your child's dietary needs with the organiser.
The party organiser will probably be very busy, so don't automatically expect them to cater for your child. Ask what types of party food are being prepared so you can substitute similar gluten-free versions. Perhaps you could bring along gluten-free alternatives for everyone to try so your child feels included.
If the party is taking place at an activity centre, it's worth ringing the centre beforehand to check what food is provided as part of the party package, as it isn't normally gluten-free. Desserts are often branded ice lollies, which you can check are gluten-free.
Cooking in school
In primary school, children often make small cakes or cookies as part of the curriculum. With some forward planning, your child can also take part. You can provide gluten-free ingredients and remind the teacher about the risks of contamination.
In secondary school, the majority of food technology classes should not cause a problem for your child. There's no reason why gluten-free foods cannot be used to substitute some ingredients. Speak to the teacher about using gluten-free ingredients and about the risk of cross contamination.
Playtime
You cannot absorb gluten through your skin, so play products will only cause a problem if your child eats them.
Younger children have a tendency to put things in their mouths so it's important to encourage them not to. You might need to supervise your child more closely when they are playing with products that contain gluten.
Most shop bought playdough products are made from wheat flour and are therefore not gluten-free. If children with coeliac disease are playing with these products, they should be supervised to make sure they do not eat it. It's good practice to get your child to wash their hands after playing with playdough or other arts and craft material.
You could also try making your own gluten-free playdough with our recipe:
Gluten-free play dough recipe
Ingredients
230g (8oz) of rice flour
230g (8oz) corn flour
230g (8oz) salt
4 teaspoons of cream of tartar
2 cups water
2 tablespoons vegetable oil
Food colouring
Method
Place all ingredients in a saucepan
Cook over a low heat for about 5 minutes, stirring all the time. The mixture is very runny to start with but gradually thickens
Remove from the heat and knead on a table or large board to remove any lumps
Roll into a large ball and store in an airtight tub. It will keep for several months.
Print page
Add to My Scrapbook