Crisps, are they suitable for a gluten free diet?
Crisps are one of the countries favourite snacks. Whilst potatoes are naturally gluten free, when fried and seasonings added this may make some crisps unsuitable for a gluten free diet. We take a look at how you can enjoy them on a gluten free diet.
Crisps are commonly made fr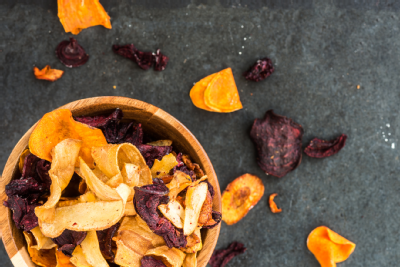 om potatoes which are simply sliced, fried, seasoned and then packed ready to enjoy. They can also be made from other vegetables like beetroot, parsnips and sweet potatoes.
What to look out for?
Some flavoured seasonings contain wheat flour to help coat the crisps these products would not be suitable for a gluten free diet. They may also have barley malt extract included flavour, again these would not be suitable for a gluten free diet unless labelled gluten free. Additionally there are crisps where the seasonings do not contain gluten but due to the manufacturing environment there is a risk of cross contamination for example "may contain gluten".
We've piled together over 600 products that are suitable for a gluten free diet. Look out for the brands of crisps that have the Crossed Grain licence in our Crisps Ready Made List.
What about crisps not made from Potato?
There are other savoury snacks like crisps that can be made from various flours and starches and made into to all sorts of shapes from cheese puffs, tortillas and monster claws! The flour used for these savoury snacks can be from gluten free flours like maize, quinoa, chickpeas and even potato, but they can also be made from gluten containing flours like wheat, barley, rye and oats. Like the crisps the seasonings can also contain gluten so always check the label. If you need help understanding product information, please visit our labelling page and look out for the handy video guide.