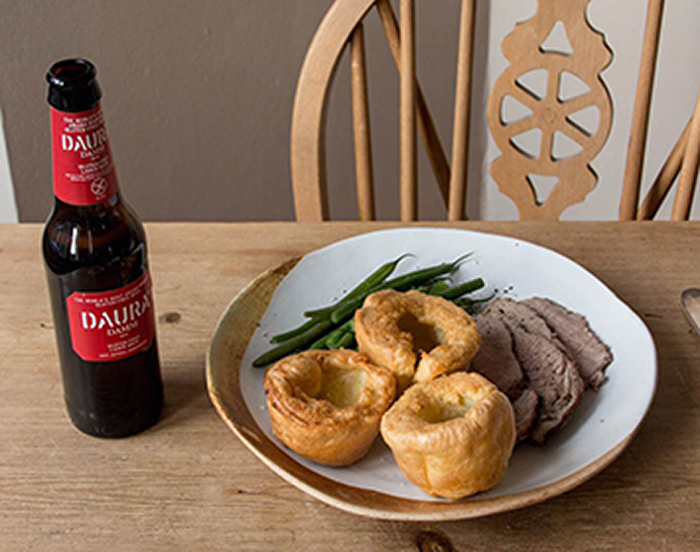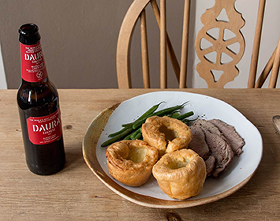 Daura Damm Batter Yorkshire Puddings
Share these delicious gluten and dairy free Daura Damm Batter Yorkshire Puddings with your friends and family when you have a roast dinner.
Credited to: Daura Damm
Kcal:
Ingredients
200g corn flour
6 eggs
200ml almond milk
100ml Daura Damm gluten free beer
Sea salt and cracked black pepper
Oil for the tin
Method
Heat the oven to 230C/fan 210C/gas 8
Drizzle a little oil evenly into a 12-hole non-stick muffin tin and place in the oven for 10-15 minutes until the oil is very hot - almost spitting
To make the batter, tip your corn flour into a mixing bowl and beat in six eggs until smooth
Pour the milk and gluten free beer into a jug and lightly whisk until combined
Gradually pour the beer mix into your flour and egg mixture a little at a time, beating as you go
Continue to beat together until the mixture is silky smooth. Season with salt and pepper
Pour the batter into the jug you used for the milk and beer mix, then remove the hot tin from the oven
Quickly, carefully and evenly pour the batter into the holes until about ¾ full. Place the tin back in the oven and leave undisturbed for 20-22 minutes, or until the puddings have puffed up and are golden all over. Serve immediately.
Hints and tips:
Emma Hatcher's (
@shecaneatwhat
) gives us her three top tips for the perfect Yorkshires:
Let the batter rest for 20 minutes before using.
Make sure the oil is piping hot before adding your batter. Once the tin is ready and the oil hot, carefully pour the batter into the muffin tin – it should sizzle on contact.
No peeking! This can cause them to deflate and you want these babies fluffy and risen.