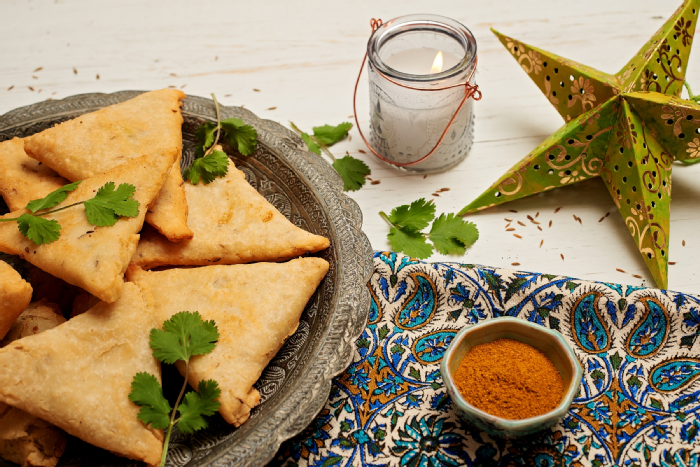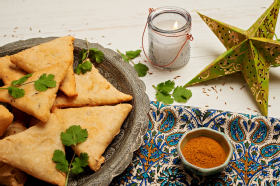 Gluten free samosas
Credited to: Coeliac UK
Kcal: 227.0
Serves 6
20 mins prep
20 mins cooking time
Ingredients
225g/8oz gluten free plain flour

1 tsp xanthan gum

1 tsp salt

½ tsp ajwain or cumin seeds

75g/3oz natural yogurt

50ml vegetable oil, plus oil

Water
2 medium potatoes, chopped and boiled

2 tsp Garam masala or spices of your choice (optional)

Salt to taste

2 tbsp chopped coriander leaves

50g/2 oz frozen peas, defrosted
Method
1. Mix together the gluten free flour with the xanthan gum, salt, and ajwain or cumin seeds.
2. Add the yogurt and oil, and mix them together to a rough dough. Add enough water to bring it together to a smooth dough.
3. Let the dough rest while you prepare the filling. Heat 1 tsp of oil in a shallow frying pan. Add Garam Masala and fry for 1 minute. Add the boiled potato, peas, salt and coriander. When the filling is cooked through, leave to cool.
4. Take the dough, break off small portions and roll each portion into a ball. Place each ball in-between cling film and roll out each ball in the form of a thin chapatti. Add 1 tsp of the prepared filling into the centre and fold the dough around into a triangle, using the cling film to help shape and keep the dough together. Press the edges together, and once you have a nice triangle shape to your samosa, remove the clingfilm.
5. Heat oil in a pan and deep fry the samosas on a slow flame until golden brown. Drain on kitchen paper and allow to cool before serving.
Nutritional information per serving
Hints and tips: