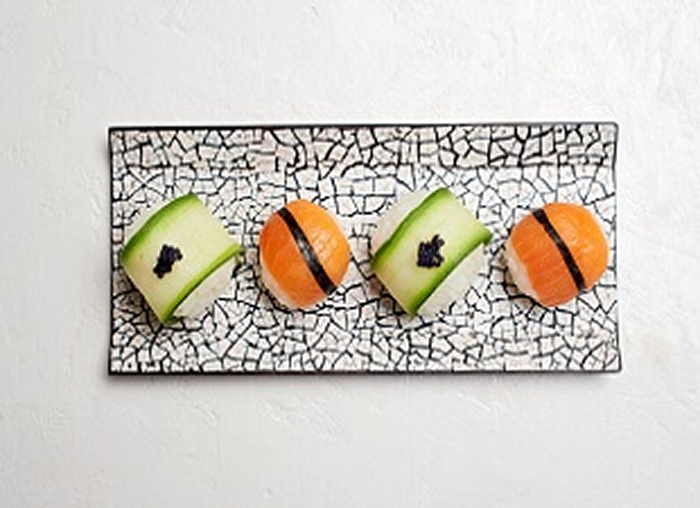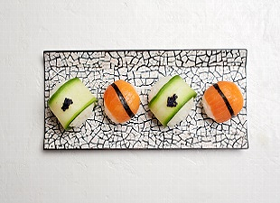 Sushi canapés
One batch of sushi rice will make about 35 canapés. These are a great addition to a party buffet- if you're happy to share them!
Credited to: Coeliac UK
Kcal: 72.0
Difficulty: Pretty easy
Ingredients
550g prepared sushi rice
350g smoked salmon
17g pack of sushi nori
Wasabi (optional)
Herbs and lump fish caviar for garnish (optional)
Gluten free soy sauce*.
Notes: *Please check our Food and Drink Information for suitable products.
Method
Prepare the rice as per sushi rice recipe.
Take a piece of cling film and place your garnish of nori strips or 10g of salmon against the cling film.
Add a little wasabi if you wish.
Then take 15g of the cooked, seasoned, sushi rice and place on top of the garnish in the piece of cling film.
Wrap the cling film around the rice and topping and squeeze to shape into a ball. Then remove the cling film.
You can then top with any herbs or lump fish caviar.
Serve with gluten free soy sauce*.
Nutritional information per serving
Hints and tips:
*Check your Food and Drink Guide or Gluten free food checker app for suitable products

Replace the smoked salmon and lump fish caviar with sliced cucumber for a vegan and vegetarian alternative.