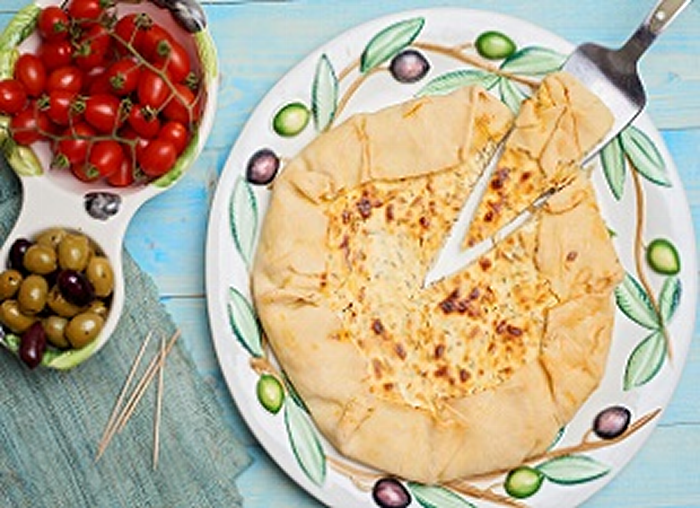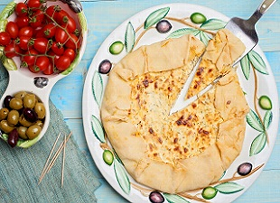 Cheese pie with dill
This is a great recipe for feta pie with dill. There is no salt in the filo pastry here because of the filling, so if you use the pastry in other recipes you can add a pinch of salt. Use the pastry as soon as it is rolled otherwise it will be difficult to work with.
Credited to: Coeliac UK
Kcal: 540.0
Difficulty: Pretty easy
Serves 8
20 mins prep
40 mins cooking time
Ingredients
For the filo pastry:
150g plain gluten free flour*, plus a bit extra for rolling
1/4 tsp gluten free baking powder*
1 tbsp olive oil
1/2 tsp xanthan gum
75ml water
For the filling:
250g feta
250g soft ricotta
1 tbsp milk
1 tbsp olive oil
2 heaped tbsp fresh dill, coarsely chopped
black pepper to season
2 eggs
Notes: *Please check our Food and Drink Information for suitable products.
Method
Preheat the oven to 180°C, 350°, gas mark 4.
Grease the base of a 28cm pie dish or tin.
To make the filo pastry, put the flour and baking powder into a bowl and add the olive oil and water to make a lovely soft dough.
Knead until smooth, this will only take a minute, then remove from the bowl, cover it with plastic wrap and leave a room temperature for 20 minutes or so to rest.
For the filling, coarsely grate the feta into a large bowl. Add the ricotta and mix it all together. Add the milk, olive oil, dill and good grind of pepper. Lightly whisk the eggs in a small bowl and pour all but one tablespoon of egg in with the cheese. Mix until well combined then reserve until needed.
Roll out the dough very thinly to a 1mm thick circle, about 40cm diameter. Drape it over your rolling pin then lower it onto the pie dish, leaving the overhang for now.
Scrape the filling mix on top and spread it evenly. Turn the pastry overhangs over the cheese mix so that you leave an uncovered area of about 5cm in the middle. The pastry will be doubled over in places in an irregular way but you can cut away a little where it's too thick. Brush with pastry with remaining egg.
Bake in the oven until the bottom of the pastry is firm and the top is golden; about 40 minutes. Remove and cool a bit before cutting into thin slices. Serve warm or at room temperature.
Nutritional information per serving
Hints and tips:
When you take the pastry out of the oven it will feel a little hard. Don't worry as the pastry will soften as it cool and eats really well.