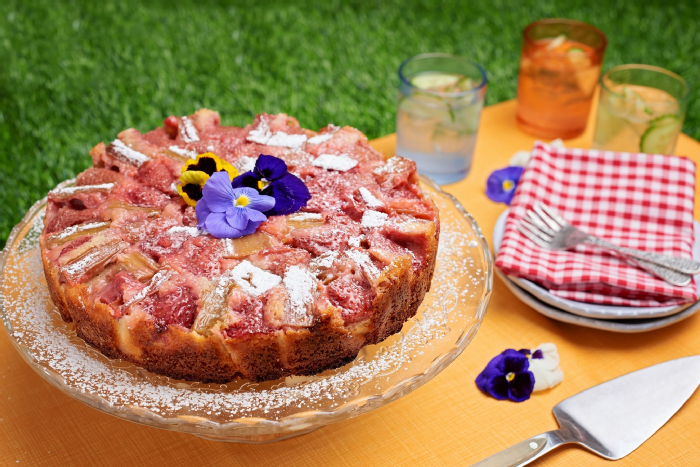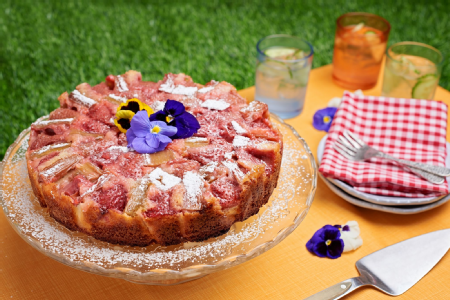 Jane Devonshire's Strawberry, Rhubarb and Vanilla cake
Strawberries and rhubarb are two of my favourite ingredients. Combined in this cake they make a wonderful summer pudding or afternoon tea
Credited to: Jane Devonshire (Coeliac UK)
Kcal: 332.0
Difficulty: Pretty easy
Serves 12
30 mins prep
45 mins cooking time
Ingredients
For the topping:
250g rhubarb, cut into 1.5cm pieces
1 tbsp sugar
300g strawberries, hulled and cut in half
25ml water, or if preferred 50ml rhubarb gin plus another splash
For the cake:
240g gluten free plain flour*
3 tsp gluten free baking powder*
1 tbsp vanilla paste
300g golden caster sugar
120g unsalted butter, softened
3 large eggs
150ml natural yoghurt
icing sugar to decorate
edible flowers to decorate, optional
Notes: *Please check our Food and Drink Information for suitable products.
Method
Preheat the oven to 180°C/350°F/Gas Mar 4.
Grease a 23cm loose base cake tin well with butter. Line the tin with greaseproof paper so it comes up about 2-3cm over the base
Put the rhubarb onto a small baking sheet and sprinkle with sugar. Place in the preheated oven for 10-15 minutes so it softens but retains the shape
Meanwhile place the strawberries in a saucepan with the gin or water and gently poach for about 5 minutes until a lovely syrup forms but the strawberries still retain their shape. Remove from the heat and if using gin, add another splash to the pan and combine
Place the strawberries into the bottom of the tin, turn them so the cut side faces into the cake and intersperse with the roasted rhubarb. Place in the fridge while you make the batter
Place all of the cake ingredients into a large bowl and beat together until a smooth batter is achieved
Gently pour cake batter over the cooled strawberry and rhubarb and place in the oven for 40-45minutes until risen and golden. Test with a skewer, if it comes out clean the cake is cooked
Allow the cake to stand for at least 15 minutes before turning out onto a plate upside down so the fruit is on the top
Once the cake is cooled, sprinkle with a little icing sugar and decorate with edible flowers.
Nutritional information per serving
Hints and tips:
You can make this an adult cake by poaching the fruit in rhubarb gin instead of water. With or without gin, it will still be a beautiful cake.