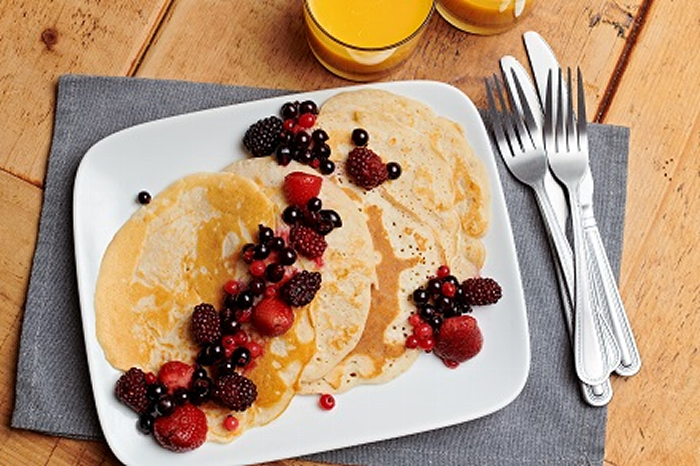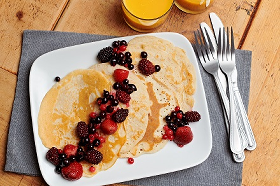 Banana Pancakes with Fruit
Fluffy banana pancakes, easy to whisk up for more of a weekend breakfast treat, or great for pancake day!
Credited to: Coeliac UK
Kcal: 232.0
Difficulty: Pretty easy
Serves 2
4 mins prep
5 mins cooking time
Ingredients
1 Banana
125g Gluten Free Self-Raising Flour
1 Egg
150ml Milk
Oil
160g Frozen Fruit
Method
Mash the banana with the back of a fork, until it resembles a puree.
Add boiling water to the frozen fruit.
Put the flour into a large bowl and make a well in the middle.
Beat in the egg and add the milk to make a smooth batter.
Add in the mashed banana and whisk until smooth.
On a medium heat, heat a little oil in a non-stick frying pan, enough to cover the bottom.
Pour the batter into the bottom of the frying pan to make 8-10cm circles.
When bubbles start to appear on the surface, flip the pancake and cook for 3 more minutes.
Repeat until the batter is used up.
Drain the fruit and serve with the pancakes.
Nutritional information per serving
Hints and tips:
Why not experiment with toppings? Try the classic maple syrup and blueberries, smother in nutella and top with chopped hazlenuts or whizz up some sugar an cinnamon and sprinkle on top.